Image
The Best Pest Control in Latrobe For 80+ Years
What kind of problem are you having? Select all that apply.
Pest Control in Latrobe
With over eight decades of experience, our team has the knowledge necessary to protect your family and home from pest infestations of all kinds and sizes. Our team of expert exterminators is highly trained in their field and promises to deliver quality services to each and every one of our customers.
In addition to efficient pest control, we also offer lawn care in Latrobe. When you have both services, our technicians will do their best to schedule both treatments on the same day! We pride ourselves in our top-notch customer service and if you are ever left dissatisfied, all you have to do is call and we will do everything we can to make it right. That's our guarantee to you!
Image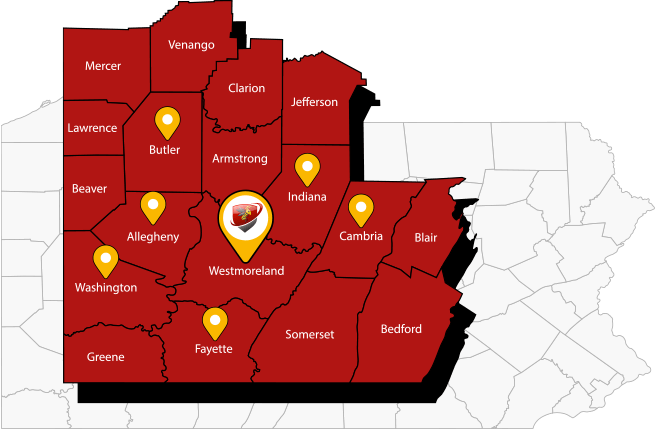 Get Rid of Household Pests
With such beautiful weather, it comes as no surprise that pests are drawn to it too. Controlling household pests can be a difficult task to do on your own because pests are a year-round threat to homes in the area. Fear not—our team of highly trained technicians is here to help you. Our top-rated pest control services will effectively eliminate pests of all kinds, including ants, roaches, spiders, silverfish, and more!
Recurring Services For A Solution That Lasts
Some people believe that one-and-done treatment methods are enough to combat and prevent pest infestations. Here at D-Bug, we know the best way to keep critters out of your home once and for all is through recurring treatments. Every season brings different pests, but with bi-monthly treatments in and around your home, you'll never have to worry about infestations again. We offer a Home Guard Package that is an all-inclusive, stress-free way to keep your home protected from bugs all year round.
Our pest control in Latrobe includes:
Prompt service for fast relief
Effective solutions and treatment methods
Scheduled follow-ups & appointments
A satisfaction guarantee for all services
A Local Company You Can Count On
As a locally-owned and family-operated company, we take great pride in serving our local community. Our customers are more than just numbers to us—they're our neighbors. We take great pride in delivering localized, friendly customer service to our customers—so when you partner with D-Bug, you can expect nothing less!
Termite Treatment in Latrobe
Do you think your home might have termites? The signs of these insects are not always clear, and a professional inspection is often needed to identify signs of an infestation or termite damage. However, some common signs include termite wings, mud tubes on the exterior walls of your house or its foundation, damage to the wood in floors or walls. If you believe you might need termite treatments, call us at 724-221-9636 to schedule a professional inspection by our trained termite exterminators. 
Effective Treatments that Give Long-Term Results
Termites can cause extensive and costly damage to your home that can result in hundreds of thousands of dollars in repairs. Don't let these insects take away your peace of mind! Instead, rely on our team of local experts at D-Bug for termite treatment in Latrobe. When you work with our team, you can expect:
A thorough inspection by one of our experienced and friendly termite exterminators.
A personalized treatment plan to suit your unique needs.
A check-in in six months to make sure they are completely eradicated.
Yearly renewals to keep termites gone.
Our team will also install the Sentricon Termite Baiting System around the exterior of your home to keep your home secure. 
Rodent Control in Latrobe
Our cold Winters are great at drawing mice and rats indoors, making the occasional infestation seem inevitable. Fortunately, with D-Bug's quality professional rodent control services, they don't have to be! We offer professional services to keep your home rodent-free 365 days a year! 
Expert Treatments For Lasting Relief
As a locally owned business with over 8 decades of experience, we know a thing or two about how to keep your home protected for the long haul. That's why we've designed our rodent control services around delivering quick results that last. When you partner with us, you will receive:
A thorough inspection to locate possible entry points into your home
Personalized treatments to remove all the existing rodents from your home
Exclusionary services to patch up holes and keep them out for good
Follow-up inspections to make sure mice and rats never return
Ready to free your home of pesky vermin for good? Give us a call at 724-221-9636 for a free quote today!
Save $25 on Rodent Control
Have you been caught off guard by a rat or mouse infestation? Don't let unexpected guests throw your budget off balance. We offer affordable rodent control in Latrobe to make getting quick relief easy, and if you schedule your initial service today, we'll even give you an extra $25 off! 
Tick Control in Latrobe
Nothing ruins an afternoon enjoying your yard like finding a tick latched onto your leg! These bloodsucking insects are not only hard to spot and hard to remove from your body, but they can put you and your loved ones at risk for a number of illnesses. A single tick can easily infect you with Lyme Disease, Rocky Mountain Spotted Fever, or any other number of rashes, fevers, and illnesses—which means they are nothing to play around with!
Here at D-Bug, we've been making your safety our priority for over 80 years. If you want to learn more about how we can protect your yard from these dangerous insects, give us a call today at 724-221-9636!
If Ticks Return, So Do We!
Have you wasted your time with store-bought solutions and DIY hacks for tick control, only to have the problem persist? You're not alone. Here at D-Bug, we believe that a good job is done right the first time, which is why we offer a satisfaction guarantee—if ticks come back after treatment, just let us know and we'll be back to set it right at no additional cost to you. 
Bed Bug Treatment in Latrobe
Nothing robs you of a good night's sleep faster than a bunch of bed bug bites! These bloodsucking critters can make their way into even the cleanest of homes, and removing them is nearly impossible without professional assistance. Luckily for you, your local bed bug exterminators at D-Bug have your back. For over 80 years, our local company has been providing treatments to homes just like yours. When you partner with us, you can expect the following:
A thorough inspection of your home to assess the level of infestation and identify the unique needs of your property.
Assistance from our industry experts.
A customized treatment plan to meet your unique needs.
Family-friendly solutions for your peace of mind.
A follow-up visit.
A satisfaction guarantee.
$50 Off Bed Bug Control
What's better than busting bed bugs? Saving money. With D-Bug, you can do both. Our services are not only fast, effective, and affordable, but if you call today, you can save $50 on your first treatment. You deserve to sleep soundly again, and you can rest easy knowing that your friendly exterminators at D-Bug will be tough on bed bugs and easy on your wallet.
Stinging Insect Control in Latrobe
No one wants to spend their spring and summer running from stinging insects. Insects like bees, wasps, and hornets can make it challenging to enjoy the outdoors, especially for pets and kids. Don't let them ruin your outdoor fun! Call us for the best stinging insect control in Latrobe and get guaranteed protection from the following types of insects in Western Pennsylvania:
Bumblebees
Baldfaced hornets
Carpenter bees
European hornets
Honey bees
Mud daubers
Paper wasps
Yellow jackets
And more!
The Best of the Best in Bee and Wasp Control 
The key to getting rid of stinging insects is knowing a lot about them. With over 80 years of experience in the pest control industry, it's safe to say that we know a thing or two about every type of bee, wasp, and hornet. Instead of risking your health and safety with DIY wasp control, trust our highly trained exterminators to get the job done safely AND effectively. Our service treatments include the following services:
Quick and complete elimination of all types of stinging insects.
Expert removal of any wasp nests and hornet nests.
Ethical relocation of honeybees and other pollinators. 
Free re-treatments if you are not 100% satisfied services.
Wildlife Control in Latrobe
Wildlife is a beautiful thing, especially when certain animals stay in the wild. Once they arrive on your property, a wild animal can cause damage and harm to your family through diseases and animal instincts. We know how important it is to be safe and comfortable in your own home. Hire wildlife control professionals in Latrobe to have animals removed safely and without harm to your family. D-Bug's technicians are ready to protect your home from the wildlife that may surround it! Our wildlife prevention includes: 
Inspection of the lawn by an expert exterminator

to see problem areas and to come up with a custom plan for the yard. 

Bait stations and trapping

to ensure wildlife won't disrupt property. 

Careful removal

of any unwanted animals on your property. 

Monitoring of stations

to make sure wildlife is gone and stays that way. 
Mosquito Control in Latrobe
While Spring and Summer herald the return of warmer weather and increased time spent outdoors, they also bring swarms of annoying and aggressive mosquitoes ready to bite anyone they can. If the itchy, red bites aren't enough, these insects also transmit serious diseases, such as Zika Virus, West Nile Virus, and Yellow Fever. Short of staying inside your home all season, top-notch mosquito prevention treatments like those found at D-Bug Pest Control are the best way to reclaim your yard and protect your family from illnesses.
When you partner with D-Bug for mosquito control in Latrobe, you can expect:
A

comprehensive property inspection

by local mosquito exterminators to understand your infestation.

A

customized treatment plan

tailored to your needs.

The

use of innovative and highly effective sprays and other treatments

to get rid of mosquitoes in all life stages.

Application of preventative treatments

to keep mosquitoes away long term.

Guaranteed satisfaction

that your yard will remain mosquito-free or we'll return to re-treat at no additional cost.
Our Guarantee
Should pests persist in between scheduled treatments, simply let us know and we'll re-service your home for no additional cost to you. That's our guarantee to you!
Image