Image
The Best Pest Control in Johnstown For 80+ Years
What kind of problem are you having? Select all that apply.
Pest Control in Johnstown
Pests can cause a huge strain on your household. If your home has been taken over by unwanted household critters, let D-Bug Pest Control offer you the relief you crave - our pest control services in Johnstown are exactly what you need to eliminate your invaders ASAP! With over 8 decades of experience, the service technicians at D-Bug Pest Control are the local exterminators you can trust when it comes to eliminating Johnstown's most common household pest invaders.
Home Guard Package For Total Pest Relief
We know that the best way to maintain a pest-free home is with recurring services, so we designed our Home Guard Package around a bi-monthly schedule that offers lasting protection from all your household pests. This all-inclusive plan gives you total relief backed by a satisfaction guarantee, to offer you peace of mind that we will get the job done no matter what! That means that if pests return to your home within 30 days of servicing, we'll send a skilled technician out to re-treat for free. Did you know D-Bug Pest Control also offers lawn care services in Johnstown? Learn how our lawn care technicians can create a beautiful lawn with LawnGuard
If you're ready to turn your needs over to the Johnstown pest control experts, give us a call today. Our quality-pro-certified technicians and exterminators have what it takes to give you the fast-acting and long-lasting pest relief you crave!
Image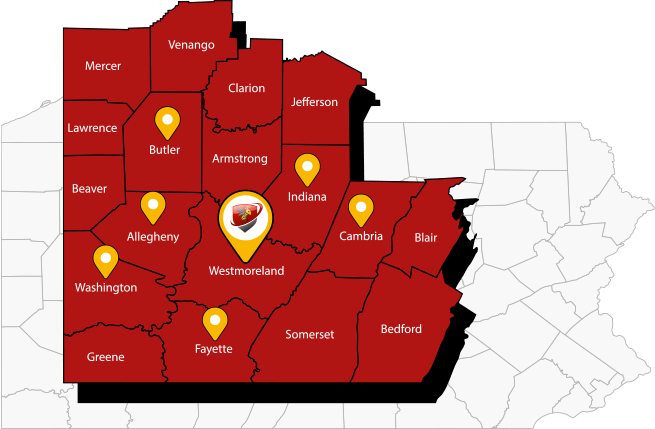 Johnstown Pest Control Services
Our top-rated pest control services in Johnstown include protection from a wide variety of common household creatures, including:
Ant control
Bee control
Bed bed control
Cricket control
Centipede control
Cockroach control
Earwig control
Hornet control
Rodent control
Spider control
Termite control
Wasp control
And more!
Termite Treatment in Johnstown
Your home is your sanctuary—don't let termites take it away from you! They are capable of doing expensive damage to your home and lowering its resale value—not to mention, most home insurance doesn't protect against termites! Common signs of these invasive pests include: 
Hollow-sounding wood
Doors and windows that stick
Mud tubing on your foundation
Piles of termite wings that look like fish scales
Peeling paint (can look like water damage)
If you think you have termites or simply want to prevent a future invasion, contact our expert exterminators today for fast and effective Johnstown termite treatment!
Your Termites Will be Gone—Guaranteed!
Fighting termites on your own is often a hassle. Store-bought and DIY treatments rarely get the job done, and at worst can be harmful to you, your loved ones, or your home! With D-Bug Pest Control, you'll be getting termite treatment in Johnstown from QualityPro-certified local termite exterminators who have 80+ years of experience in the industry. Even better, all of our Johnstown termite treatments come with a 100% satisfaction guarantee: if they still aren't gone after our treatment, just let us know and we'll be out in no time to retreat—for free! That's a service you can count on. Call us today and experience the D-Bug difference.
Bed Bug Treatment in Johnstown
Bed bugs can quickly rob you of the sleep you need to live a healthy, productive life. Bed bug infestations are on the rise in the U.S., and the way they burrow deep into your mattress or furniture can make them nearly impossible to remove without professional help. Lucky for you, your friends at D-Bug Pest Control are experts on how to get rid of bed bugs and have been providing bed bug treatment in Johnstown for over eight decades. Not sure if you have an infestation? Look for these common signs of bed bugs:
Bloodstains on pajamas for linens
Small red welts from a bed bug bite on your body after waking
Eggshells in bedding
A musty odor
$50 Off Bed Bug Treatment in Johnstown
We believe that bed bug treatment in Johnstown should get rid of them without costing an arm and a leg. That's why our bed bug exterminators go above and beyond to make your experience with us fast, effective, and affordable. Our exterminators will conduct a thorough inspection and create a personalized bed bug treatment plan based on your unique needs. Not only do we provide a satisfaction guarantee, but when you sign up for a pest control treatment plant today you can save $50 on your service. Why wait? Call us today to take back your good night's sleep!
Rodent Control in Johnstown
Without knowing, they enter your home, cause mess and destruction, and quickly spread diseases to you and your loved ones. Fortunately, our rodent exterminators can get pests such as rats and mice under control. We offer rodent control in Johnstown to guarantee swift and efficient rodent removal for your satisfaction!
Save $25 on Long-lasting Rodent Control
Whether you're wanting to get rid of mice, rats, or other varmints in your home, our local exterminators are more than capable of treating any infestation! With 8 decades of experience under our belts, we're certain to provide you with top-quality service for guaranteed relief. For even better results, we provide service that's quick-acting and long-lasting, so you can rest assured knowing your home will be rodent-free for many months to come.
Get $25 Off Rodent Control Today
Our rodent control in Johnstown includes:
A comprehensive rodent inspection of your home conducted by a professional exterminator. 
A custom treatment plan that will fit your unique home and service needs.
Family-friendly interior and exterior treatments to completely get rid of mice and other rodents.
The sealing of cracks and other entryways to prevent rodents from re-entering your home.
The use of traps and other removal methods, if needed after a full treatment.
Follow-up inspections and treatments until your home is 100% rodent-free!
Tick Control in Johnstown
As a Western Pennsylvania resident, odds are that you've encountered a tick on more than one occasion. These bloodsuckers thrive in our climate, reproducing rapidly and becoming a major problem for many homeowners in the Johnstown area. Although everyone knows that finding an annoying pest on you is bad news, few people know how to get rid of these small, but harmful creatures. In fact, the only way to fully get rid of them is with the help of an experienced professional. At D-Bug Pest Control, our tick removal services are backed by over eight decades of experience and administered by highly-trained exterminators. For tick control in Johnstown you can trust, we're the people to call. Contact us today to save $25 on our guaranteed services and get rid of ticks for good!
Protect Your Household from Ticks and Disease
As carriers of over nine dangerous diseases, ticks are not the kind of pest you can just ignore. Leaving them untreated is putting your household at risk of Lyme Disease, Rocky Mountain Spotted Fever, and more. Get the reliable protection you need by partnering with D-Bug Pest Control for tick control in Johnstown today. 
Save $25 On Tick Control Today!
With the following services, we guarantee total tick removal:
A free inspection to identify which of the seven common types of ticks you are dealing with and where they are breeding.
A treatment plan customized to meet your needs.
Application of our top-quality spray on your yard, bushes and trees, and the surrounding woods and fields.
The combining of our tick removal services with the elimination of mosquitoes and fleas for a pest-free yard.
Free re-treatments if they return within 30 days of treatment.
Stinging Insect Control in Johnstown
When it comes to removing insects like yellow jackets, hornets, and wasps, it's important to leave the job to the professionals. These insects can sting multiple times and cause allergic reactions, which puts you and your loved ones in danger. Our pest exterminators, on the other hand, have the protective gear and tools to allow them to safely remove all the insects from your property.
When you choose our stinging insect control in Johnstown, we will:
Find all of the nests on your property, active or not.
Eliminate existing insects with fast-acting treatments.
Remove nests to prevent other colonies from moving in.
Give you our satisfaction guarantee, which includes free re-treatments.
Mosquito Control in Johnstown
Tired of swatting at mosquitoes every time you go outside? Trust our professional mosquito control in Johnstown, PA. Our mosquito exterminators have over 80 years of providing expert services.
Benefits of our mosquito services include:
Free inspection: Our experts will assess your property to identify mosquito breeding areas and develop a customized treatment plan.

Mosquito prevention: Protect yourself and your family from mosquito-borne diseases through proactive prevention.
Experience the power of our mosquito control services in Johnstown and enjoy your outdoor space without worrying about mosquito bites.
Wildlife Control in Johnstown
We understand the unique challenges posed by each species of wildlife. Whether it's the mischievous grey and red squirrels, elusive copperhead snakes, or noisy bats, our team of expert wildlife exterminators in Johnstown is equipped with the knowledge, experience, and cutting-edge tools to handle any situation. We prioritize your safety and the ethical treatment of these animals, ensuring that they are removed humanely and relocated to a suitable environment. When you partner with us for wildlife removal, expect the following:
Extensive knowledge and experience in identifying entry points and effectively removing a range of wildlife species.
A custom treatment plan tailored to your specific needs.
Ongoing wildlife prevention services to ensure your home remains protected year-round. 
Humane trapping methods that ensure the safe removal and relocation of animals, minimizing harm to both the wildlife and your property.
Choose D-Bug Pest Control for all your wildlife control needs in Johnstown. Our comprehensive and humane approach to wildlife removal ensures that your home remains protected from unwanted intruders. Contact us today to schedule a consultation and take the first step towards a wildlife-free home.
Need Service Around Johnstown?
We offer pest control services in:
Our Guarantee
Should pests persist in between scheduled treatments, simply let us know and we'll re-service your home for no additional cost to you. That's our guarantee to you!
Image