Image
The Best Pest Control in Murrysville For 80+ Years
What kind of problem are you having? Select all that apply.
Pest Control in Murrysville
Unlike the other large companies, our customers are much more than that - they are our neighbors. As a locally-owned and family-operated company, we are proud to offer quality pest control services in Murrysville as well as exceptional customer service. That's why if you are ever left dissatisfied, all you have to do is call us at 724-221-9636. We will work to make it right!
In addition to pest control treatment, we offer lawn care in Murrysville! Instead of treating weeds on your own, only for them to return, let the professionals do the work and give you the beautiful lawn you deserve. 
Image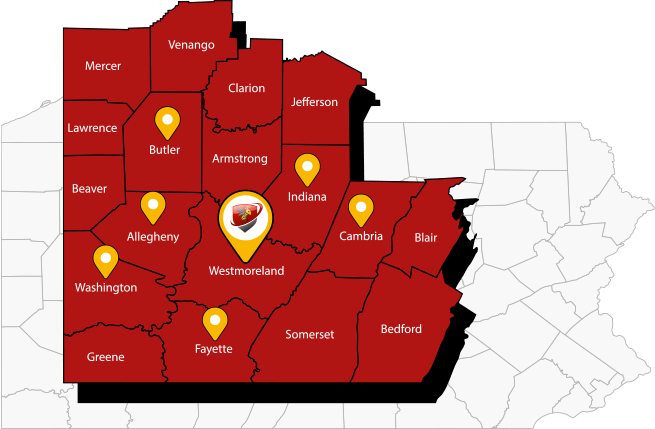 Murrysville Pest Control Services
While one-and-done treatments and DIY methods seem like viable forms of pest control, they rarely get the job done. Pest control in Murrysville requires year-round attention because with each season comes new threats to your home. We rigorously train all of our exterminators in Murrysville to ensure they have the knowledge and ability to not only rid your home of any current infestations but also protect your home from future ones. Our top-rated pest control services in Murrysville target pests of all kinds, including:
Ants
Roaches
Spiders
Silverfish
Crickets
Bees
Flies
And More!
Protect Your Family From Pests Today
Stress-Free Treatments That Work! - If Pests Come Back, So Will We
With over 80 years of Murrysville pest control experience, we believe the best way to eliminate and prevent pests is through recurring services. Our Home Guard Package is an all-inclusive and stress-free method that utilizes bi-monthly treatments to ensure your home is never left unprotected. When upgrading to the home guard package, your first treatment is free! In January and February, our expert exterminators will treat the inside of your home. For the remainder of the year, all treatments are performed from the outside. Plus, if you discover a pest problem that requires immediate attention, we will return to your home as soon as possible! All of our pest control services in Murrysville include fast relief, effective solutions, scheduled follow-ups, and a 100% satisfaction guarantee.
Termite Treatment in Murrysville
Termites are a costly pest, annually causing billions of dollars of damage to homes across the United States. Early detection is important to save you from an expensive repair bill, which is why professional help is so important when it comes to termites. Our termite treatment in Murrysville not only eliminates current termites, but can also prevent an infestation from happening. Peace of mind is only a phone call away!
Our Tried and True Treatment Methods
Our team is highly experienced, making us qualified to treat your home for termites. We take special care in every step of our treatment process, ensuring we make your home safe for you and your loved ones. When you choose us for your termite treatments, you can expect:
A detailed inspection by one of our friendly, knowledgeable Murrysville termite exterminators.
Personalized treatment that works with your home's needs for total elimination.
Installation of a Sentricon Termite Baiting System that stops termites before they even make it to your home.
A check in six months after your initial treatment to make sure termites aren't trying to make a comeback.
Long-lasting protection with yearly renewals.
Contact D-Bug To Protect Your Home From Termites
Indicators of Termites
While they aren't always easy to spot, there are a few telltale signs of termite activity that you can keep an eye out for. If you start spotting any of these signs, call as soon as possible to get an inspection by one of our professional Murrysville termite exterminators.
Discarded wings inside your home
Mud tubes on the walls or foundation of your home
Unexplained wood damage
Hollow or papery sounding walls or floors
Peeling paint that resembles water damage
Rodent Control in Murrysville
Mice and Rats are never welcome guests when you spot them scurrying across your kitchen floors. Luckily, with D-Bug's Murrysville rodent control services, you can say goodbye to these furry surprises for good! Our rodent control services in Murrysville are the perfect way to eliminate household rodents and keep them from coming back, so you can enjoy a rodent free home for years to come! Not in Murrysville? We also offer rodent treatments in Greensburg and the surrounding locations. 
Personalized Treatment For Lasting Results
As a locally owned business with over 8 decades of experience, our pest control experts know exactly what it takes to tackle even the toughest of rodents. That's why we've specially designed our Murrysville rodent control services to be personalized, giving you the exact care you need to see lasting results. When you partner with D-Bug for your rodent control in Murrysville needs, you can expect:
A thorough inspection of your home to help our experts determine where rodents may be entering your home
A specially tailored treatment plan including trapping and baiting to eliminate existing rodents from your home
Exclusion work to repair entry points and make sure rodents aren't able to return
Follow-up appointments to make sure your home stays rodent free
Give us a call at 724-221-9636 to get a free rodent control quote today!
Save $25 on Rodent Control Today
We know fast relief is a top priority when rodents invade, so we've designed our Murrysville rodent control services to be as affordable as they can be. Give us a call today to schedule your rodent control, and we'll even give you $25 off your first service!
Bed Bug Treatment in Murrysville
Having bed bugs is a real nightmare. They're difficult to spot, even harder to eliminate, and can make sleeping almost impossible. Not to mention that ineffective DIY bed bug treatments can actually worsen the infestation by driving bed bugs deeper into your home, leaving you with an even bigger problem than you started out with. Luckily, relief is possible with our reliable bed bug treatment in Murrysville. Sign up today and save $50 on your initial bed bug service!
Long-Term Bed Bug Relief
Bed bugs are small pests, which enables them to hide just about anywhere. They can tuck themselves away in the creases of your mattress, carpet corners, behind baseboards, and even inside your shoes. While that may be a lot of hiding places, our bed bug treatment in Murrysville is designed to target every nook and cranny of your home, reaching bed bugs no matter how well they're hidden. When you trust D-Bug Pest Control, our skilled bed bug exterminators will:
Give you a free estimate, letting you feel confident you made the right choice.
Carefully inspect your home from top to bottom, searching for signs of bed bugs.
Customized bed bug treatment to your home's specific needs to get rid of bed bugs fast.
Use family-friendly bed bug treatment methods to ensure the safety of your family. 
Perform a follow-up bed bug inspection to ensure no bed bugs are sticking around.
Tick Control in Murrysville
Ticks may be one of the smallest pests in Western Pennsylvania, but they are also one of the most feared. To be bitten by this creature can lead to the risk of dangerous diseases like Rocky Mountain Spotted Fever, West Nile Virus, Zika Virus, and more. On top of that, some of these diseases can even be transmitted to your pets, endangering them. Getting rid of ticks is not the kind of job you want to procrastinate. The second that you spot one of these tiny but life-threatening pests, pick up the phone and call D-Bug Pest Control for guaranteed removal of all types of ticks in your yard. Backed by over eight decades of experience, our tick control in Murrysville is exactly what you need to keep your family safe. Call now to save $25 on our unbeatable tick removal services!
Save $25 On Tick Control Today
Trust in 80+ Years of Tick Removal Experience   
As a pest control company with 80+ years of experience, we've spent decades developing our tick control program in order to provide our customers with the best services on the market. We work hard to stay on top of the latest technologies in treatments, ensuring that our customers receive both reliable services and cutting-edge treatments. 
Our tick treatment in Murrysville includes the following services:
A free inspection conducted by one of our highly trained tick exterminators.
A treatment plan customized to your unique needs.
Top-of-the-line spray on your yard, trees and bushes, and surrounding areas.
Complete removal of ticks, mosquitoes, and fleas alike.
Free re-treatments if problems persist within 30 days of treatment!
Stinging Insect Control in Murrysville
Nothing is worse than getting stung while trying to soak up some sun outside. The stings of wasps, hornets, and bees are not only painful, but can also cause infections or even serious allergic reactions. To avoid these risks, it is best to call in the professionals for help. Our experts at D-Bug are the best in the business for stinging insect control in Murrysville. We will conduct a thorough inspection of your home to determine the best course of action to eliminate these insects all while preventing them from coming back. Our team is made up of qualified exterminators who are dedicated to keeping you and your family safe!
Our stinging insect control services in Murrysville will protect you against:
Yellowjackets 

Honey bees

Bumblebees

Carpenter bees

Mud daubers 

And many more!
Wildlife Control in Murrysville
Wild animals find the warmth and other amenities offered by your home more appealing than their typical options for shelter. Therefore, if there is a way in, they have no problem making themselves comfortable. Once inside, they expose your family and pets to diseases and cause damage to your home through nest building and their waste. Given their unpredictable behavior, especially when they feel threatened, it's best to rely on professional wildlife removal services, such as those offered by D-Bug Pest Control.
As part of our Murrysville wildlife control, our highly trained exterminators will:
Conduct

a thorough inspection

to assess the extent of 

Customize treatment options

to best deal with your unwanted guests.

Focus on

humane removal of the critters

from your home.

Perform repairs to eliminate entry points and

prevent wildlife from returning

.

Provide reliable service you can trust

.
Looking for Pest Control Around of Murrysville?
Our exterminators service many other locations surrounding Murrysville, PA, including: 
Our Guarantee
Should pests persist in between scheduled treatments, simply let us know and we'll re-service your home for no additional cost to you. That's our guarantee to you!
Image