Image
80+ Years Providing the Best Pest Control in Butler
What kind of problem are you having? Select all that apply.
Pest Control in Butler
Pest infestations can happen to anyone, at any time. To ensure your home is protected, trust our pest control in Butler. We offer comprehensive plans that use high-quality products to guarantee that you see results. Whether you've got rodents in the attic or roaches in the basement, we have a solution for you!
Our pest prevention and elimination will protect your home from:
Ants

Termites

Cockroaches

Spiders

Beetles

Earwigs

Silverfish

Stinging insects

Crickets

Flies

Centipedes

Bed Bugs

Rodents

And more!
Image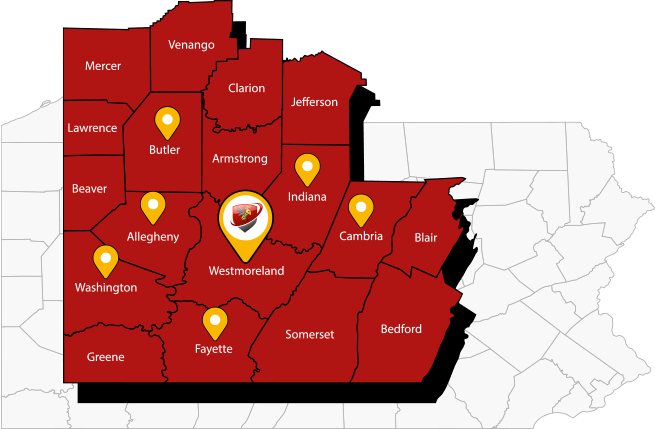 Recurring Treatments for Long-Term Results
The best way to keep your home pest-free is with recurring treatments! That's why our exterminators offer bi-monthly visits with all of our Home Guard Packages. We'll inspect your home during every visit, looking for signs of pests like nesting materials, cobwebs, and droppings. After that, we'll use our findings to create a treatment plan that's tailored to your home and family. Stop worrying about unwanted insects, call D-Bug Pest Control today!
When you trust our expert pest exterminators, we will:
Complete a

thorough inspection

of your property to determine what pests are present.

Find what might be attracting insects and rodents and give you

tips to fix the problem.

Eliminate existing pests

, no matter where they're hiding.

Schedule recurring treatments

throughout the year to keep insects away.

Give you our

satisfaction guarantee

for the ultimate peace of mind.
Guaranteed Services from Local Exterminators
We've been providing pest control in Butler for over eight decades, so you can rest assured that your home is in good hands. Not only do we offer effective services, but we also have a satisfaction guarantee! If pests come back within 30 days, let us know and we'll re-treat your home free of charge. With D-Bug Pest Control, you'll get great results every time!
Rodent Control in Butler
Hearing scratching noises in your walls or finding gnaw marks on your belongings isn't just unsettling, it's also a sign that you have a rodent infestation. Instead of trusting store-bought solutions to get the job done, choose our rodent control in Butler. We personalize our approach based on your home, giving you the long-term protection you need. With over 80 years of experience, high-quality products, and follow-up inspections, there's no better way to get rid of rodents.
When you partner with D-Bug Pest Control, our rodent exterminators will:
Conduct an inspection

to find how rats and mice are coming into your home.

Create a treatment plan that's

tailored to your unique needs.

Seal entry points to

stop future infestations

from happening.

Strategically place bait boxes

around your property and in the attic.

Use additional methods as needed, like

traps and glue boards.

Schedule a

follow-up inspection

to ensure your home is rodent-free.
Bed Bug Treatment in Butler
Bed bugs are incredibly smart pests, and this ultimately makes them harder to get rid of. They know to hitchhike into your home, find a good hiding spot, and avoid treatments that try to get rid of them. This makes it impossible to eliminate bed bugs on your own. Luckily, you don't have to do it all yourself! Our bed bug treatment in Butler is designed to give you safe, effective relief using state-of-the-art products. We'll eliminate the infestation in no time, so you can sleep tight without letting the bed bugs bite!
When you trust our expert bed bug exterminators, we will:
Complete a

thorough inspection

to find where they are hiding.

Create a

personalized treatment plan

based on our findings and any concerns you have.

Use

family-friendly products

to eliminate pests without risking your loved ones.

Schedule a

follow-up visit

to ensure your infestation is gone for good.
Our Guarantee
Should pests persist in between scheduled treatments, simply let us know and we'll re-service your home for no additional cost to you. That's our guarantee to you!
Image