Image
The Best Pest Control in McKeesport For 80+ Years
What kind of problem are you having? Select all that apply.
Pest Control in McKeesport
Here in Pennsylvania, pests are a major problem. Your home may come under siege by all sorts of different critters, from rats and mice to termites to spiders. If you're sick of sharing your home with these or other invaders, it's time to call your neighbors at D-Bug Pest Control. For over 8 decades, we've been offering pest control in McKeesport capable of solving any problem. Our bi-monthly treatments are designed to eliminate pests within your home and create a protective barrier on the exterior of your home to keep them from returning. We're capable of handling any of the following:
Ants
Roaches
Spiders
Beetles
Earwigs
Silverfish
Bees
Wasps
Crickets
Flies
Centipedes
And more!
Image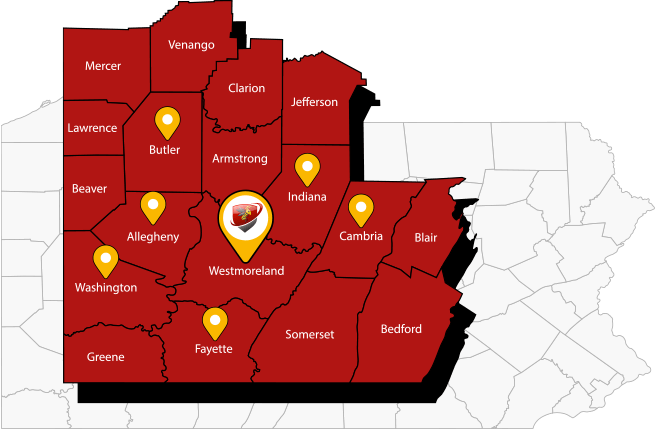 Guaranteed Protection From Pests
Overwhelmed by insects? Help is on the way from your local experts at D-Bug Pest Control. Since 1939, we've been protecting our community from stressful critters with guaranteed pest control in McKeesport backed by comprehensive bi-monthly treatments. Call us today for a free quote!
It can be a challenge to face a pest infestation alone. Many DIY treatments for pests only brush the surface of the infestation, wasting your time and money. With D-Bug, you'll get pest control in McKeesport that is backed by a satisfaction guarantee: if pests return within 30 days of treatment, you get a re-service at no additional cost. When you choose us for pest management, you'll get the following from your exterminator in McKeesport:
An inspection to identify your insect or rodent problem and a tailored solution.
Winter interior treatments.
Exterior treatments throughout the year to keep pests out.
The pest-free home you deserve.
Outside of McKeesport? Our exterminators service Greensburg and its surrounding areas. 
Bed Bug Control in McKeesport
No one should have to lose sleep to bed bugs. These bloodsucking parasites can be difficult to identify with the untrained eye, and due to their small size and resilience can be nearly impossible to eliminate without professional help. Here at D-Bug Pest Control, we rely on over 80 years of experience to provide top-of-the-line bed bug control in McKeesport. Our bed bug treatment utilizes family-friendly treatments and follow-up services to ensure your bed bug infestation is eradicated for good.
When you team up with our pest control company, you can expect the following from your bed bug exterminator in Mckeesport:
An inspection to assess areas of bed bug activity in your home.
A customized treatment plan made to suit your needs.
Family-and-pet safe treatments.
$50 off your first treatment!
Termite Treatment in McKeesport
It can be easy to think about termites as a distant threat, something that only happens to other homeowners. But the truth is, a termite infestation could happen to anyone, and it could cost you thousands. Whether or not you've detected signs of termites in your home, it is crucial to have a professional termite exterminator regularly apply treatment to ensure you don't become their next victim. 
Signs of a termite infestation include: 
Discarded wings
Mud tubes near the foundation of your home
Wood that sounds hollow 
Unexplained patterns on floors, cabinets, patios, or other wooden structures in your home.
Peeling paint
Don't risk pests destroying your most valuable asset. Call D-Bug Pest Control today for a free inspection, and top-quality termite treatment in McKeesport!
Comprehensive Termite Treatment for Lasting Results
Even a couple of termites in your home is too many. These clever pests work quickly and reproduce even faster, forming colonies of up to a million and eating through the structure of your home at frightening speeds. The only way to get rid of termites and keep them away is to regularly monitor your home for pest activity which is exactly what we'll do when you partner with D-Bug Pest Control for termite treatment in McKeesport. Our services include:
A thorough termite inspection of your home to detect signs of termites, evaluate the damage, and design a custom treatment plan for you.
Installation of a Sentricon Termite Baiting System around the exterior of your house for effective termite removal and monitoring. 
A follow-up visit after six months so that your termite exterminator can ensure termites are gone for good.
Optional yearly renewals for lasting protection and peace of mind.
Rodent Control in McKeesport
In McKeesport, winter is the time to hunker down indoors, away from the snow and ice. Unfortunately, you're not the only one who thinks so. Rat and mouse infestations frequently occur during the colder months when lack of warmth and food draws rodents indoors. If you've detected signs of rodents in your home, such as droppings, gnaw marks, urine odors, and scratching noises, it's likely that you're one of the many Pennsylvania homeowners dealing with a rat or mouse infestation. The best way to prevent the problem from growing uncontrollably is to contact a professional pest control company as soon as you suspect an infestation. For the best rodent control in McKeesport, call D-Bug Pest Control today and receive a free inspection!
Save Money With Our Special Offers
Over 80 Years of Experience in Rodent Removal
Rats carry dangerous diseases like Lyme disease. They track filth into your home and contaminate your food. They chew through wires, cables, and insulation, threatening the structural integrity of your home. The longer you wait to get help, the greater the risk that rodents will severely harm your household. Protect your family by placing your home in the hands of experts with over 80 years of rat control experience.
We guarantee that the following services will get rid of rodents safely and effectively:
We begin with a thorough rodent inspection to determine entry points and centers of activity. 
Following our inspection, we are able to create a customized rodent treatment plan to accommodate your specific needs. 
We utilize a variety of family-friendly mouse control methods for the best results including bait boxes, mouse traps, and glue boards depending on the situation.
In addition to rodent removal, we will also take preventative measures such as sealing entryways and recommending further actions to keep rats away.
Until the issue is fully resolved, your rodent exterminator will provide follow-up inspections and adjust the treatment plan accordingly. If rats return between follow-up inspections, an exterminator will retreat your home at no additional cost to you. 
Looking for Pest Control Outside of McKeesport?
We also offer pest control to Pittsburgh and surrounding cities!
Our Guarantee
Should pests persist in between scheduled treatments, simply let us know and we'll re-service your home for no additional cost to you. That's our guarantee to you!
Image