Image
The Best Pest Control in Irwin For 80+ Years
What kind of problem are you having? Select all that apply.
Pest Control in Irwin
D-Bug Pest Control has been locally-owned and family-operated since 1939 — that's over 80 years that we have been protecting our neighbors' homes from pests! We take pride in serving our local community and make it a mission to treat our customers with the utmost respect and care. We also believe in using family-friendly pest control products to successfully eliminate infestations without sacrificing the safety of your home. If you're looking for the best of the best when it comes to pest control in Irwin, look no further than D-Bug Pest Control! Not only do we provide efficient pest control, but we also offer lawn care services in Irwin. Restore your yard and enjoy the beautiful lawn you deserve! 
Image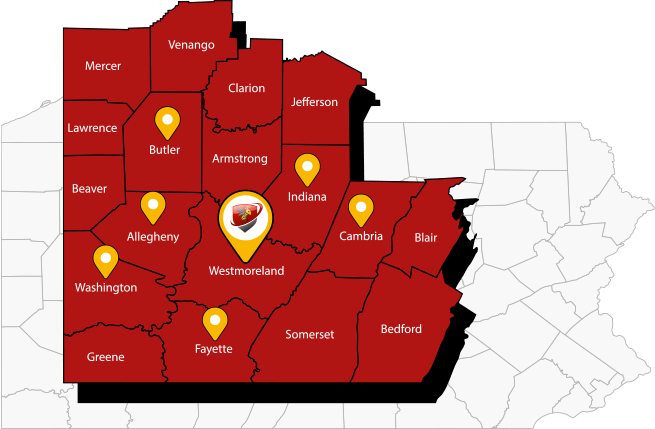 Keep Your Family Safe and Show Pests the Door
Not only do our highly trained, Quality Pro-certified exterminators in Irwin utilize family-friendly products when servicing your home, but we at D-Bug Pest Control also offer prompt service, follow-up appointments, and customized treatment plans. Your customized pest control treatment plan in Irwin includes guaranteed protection against:
Ants
Spiders
Earwigs
Bees
Wasps
Flies
Centipedes
Crickets
Roaches
Beetles
Silverfish
And more
Pest Control Plans Which Offer Total Pest Protection!
Over the past eight decades, we have developed a trustworthy, thorough process in order to fully eliminate your pest infestation in Irwin. Our Home Guard Package ensures year-round, indoor and outdoor, protection from insects and rodents. Your first treatment is free when upgrading to home guard! Not in Irwin? We offer pest services around our Greensburg office location. When you sign up for this program, you can expect:
A thorough initial pest control inspection of your home to determine the extent of the infestation and find exactly where insects and rodents are living and breeding.
A family-friendly pest control treatment plan that will quickly and safely eliminate all existing pest infestations in your home.
Follow up inspections and treatments every few months to ensure no new infestations occur and you get to enjoy a pest-free home for good!
Termite Treatment in Irwin
If you spot damage on wooden structures around your home or if your floors start to sound hollow when you step on them, you may have a termite infestation. Luckily, D-Bug Pest Control can help! We offer termite control in Irwin to effectively remove termites and prevent future infestations. 
Free Termite Inspections for New Customers
Termites can cost you thousands of dollars in home repairs, but we can stop them and save your home from further destruction. When you call us for termite control in Irwin, we will send a highly trained termite treatment expert to your home to perform a professional inspection. From there, we will provide year-round protection with advanced baiting technology to ensure that termites stay out of your home for good!
When you choose us for termite treatment in Irwin, we will:
Thoroughly inspect your home for termite activity and structural damage. 
Develop the best custom treatment plan for your home and your family.
Set up a Sentricon Termite Baiting System that protects your home from the outside and keeps termites from entering.
Re-inspect your home six months after service to guarantee total elimination. 
Provide annual service renewals for greater, lasting protection!
Tick Control in Irwin
No matter if you're roaming through the woods or simply enjoying your own backyard, ticks are a problem that you'd rather avoid altogether. At D-Bug Pest Control, we can get you the relief you're searching for. We provide tick control in Irwin that offers proactive and preventative treatments for year-round protection!
Save $25 on Comprehensive Treatments for a Pest-Free Home 
With over 8 decades of experience, we're sure to provide you with the best tick control in Irwin! We are proud to provide you with a pest-free guarantee that offers even more protection, eliminating ticks as well as mosquitoes, fleas, and other common pests. Whatever the degree of your tick infestation may be, our local experts are sure to get the job done right!
When you partner with us for tick control in Irwin, you will get:
A comprehensive inspection of your property to identify tick breeding grounds.
A custom treatment plan to completely get rid of ticks around your property.
An EPA-approved liquid treatment that targets and eliminates tick populations.
Added protection from other yard pests such as mosquitoes and fleas.
Long-lasting protection, so you and your family can enjoy a tick-free yard all year!
Rodent Control in Irwin
Your home is where your peace of mind should be at its greatest and where you feel the most secure. When you're the victim of a mouse or rat infestation though, your home doesn't feel safe. Make sure you have a dependable rodent control plan that you can rest assured once more that your home is safe and sound. At D-Bug Pest Control, we bring 89 years of hands-on experience into your home, giving you the relief that you need as quickly as possible. With our rodent control in Irwin, you can expect:
A thorough home inspection from a local exterminator.
Personalized rat and mouse removal plans that address your needs.
Strategically stationed traps and bait boxes around your home.
Sealing of rodent entry points to stop future infestations before they happen.
Follow-up inspections to guarantee long-lasting relief.
And more!
Stay Safe From Disease
When rodents get into your home, it's more than hearing sounds of them running around your house. It can be dangerous as well! All over Western Pennsylvania, mice and rats are known to carry and spread Typhus, Hantavirus, Salmonella, and even Bubonic Plague! Don't let these destructive household pests jeopardize your loved ones' health and get a plan you can trust today!
Bed Bug Treatment in Irvin
Bed bugs are enough to terrify any homeowner. If you're seeing the red-brown tiny bloodstains of these pests on your bedding or clothes, it's time to call in the professionals. Bed bugs are notoriously impossible to exterminate without professional help, but you can count on D-Bug to handle your bed bug issue. With over 80 years of experience to back up our bed bug treatment in Irvine, our exterminators can help with the following: 
A thorough inspection of your home including every place bed bugs like to hide.
A custom treatment plan according to the results of the inspection.
Treatments that are safe for you and your family.
A follow-up visit to make sure bed bugs are completely gone.

Our pest-free guarantee.
Save $50 Today!
Bed bugs are an urgent matter, and keeping your family safe should be quick and affordable. We're offering $50 off bed bug treatment in Irvine when you call today. You can also receive your first treatment for free when you upgrade to our comprehensive Home Guard Package.
Stinging Insect Control in Irwin
Stinging insects wouldn't be so bad if they kept to themselves and left you alone. Not only are you in danger of being stung if you accidentally surprise them, but they have a habit of buzzing around areas where you and your family hang out, especially if there's food. Rather than using DIY treatments which can just make wasps and hornets angrier, rely on the experts at D-Bug for reliable stinging insect control in Irwin to eliminate the following:
Bumblebees

Baldfaced hornets

Carpenter bees

European hornets

Honey bees

Mud daubers

Paper wasps

Yellowjackets

And more!
Bee and Wasp Control You Can Trust
At D-Bug, our QualityPro certified technicians have the necessary training and proper equipment to safely address any colonies of stinging insects on your property and have been doing so for 80+ years. You can be assured that our treatments will result in lasting relief and freedom from wasp and hornet stings. 
Our stinging insect control provided by local exterminators in Irwin includes:
A

complete inspection

to identify the type of insects and all current and former nesting locations.

Expert and ethical relocation

of honeybee and other pollinator colonies.

Fast and effective treatments

to safely eliminate stinging insects.

Removal of empty nests

to discourage new stinging insects from moving in.

Guaranteed satisfaction

 or we will return at no additional charge.
Mosquito Control in Irwin
Mosquitoes are one of the most annoying insects around and can cause you to retreat inside when you really want to be taking advantage of your yard. The best way to protect your family from mosquito-transmitted illnesses, such as Zika Virus, West Nile Virus, and Yellow Fever, is to not get bitten. Rather than messing around with DIY foggers and smelly sprays that have their own risks, D-Bug Pest Control has an effective mosquito prevention program that provides the relief you need to enjoy the outdoors.
As part of our mosquito control in Irwin, you will receive:
A

thorough inspection

to assess your property and find where mosquitoes are breeding and hiding.

Tailored treatment plans

based on your needs.

Applications of

the latest in spray technology and other treatments

to effectively combat mosquitoes in all life stages.

Additional preventative treatments

to keep them from returning.
30-Day Warranty For All Pest Control Services
We understand you work hard for your money, so chances are you want to see results for what you're paying for. We totally understand — and that's why we are proud to offer a satisfaction guarantee on all of our pest control services in Irwin. If you notice pests within 30 days of our initial treatment, we will gladly re-treat your home at no additional cost to you. You can count on your neighbors at D-Bug Pest Control to get the most bang for your buck!
Need Service Around Irwin?
Our exterminators service many other locations surrounding Irwin, PA, including: 
Our Guarantee
Should pests persist in between scheduled treatments, simply let us know and we'll re-service your home for no additional cost to you. That's our guarantee to you!
Image