Image
80+ Years Of Pest Control In Pittsburgh
What kind of problem are you having? Select all that apply.
Pest Control in Pittsburgh
Here at D-Bug Pest Control, we're passionate about being customer-driven. We have the work ethic and the experience to prove we're the best local pest control company in the city. With over eight decades of experience, we are confident we have the tools to handle all of your pest removal needs from beginning to end.
When you choose us for pest control in Pittsburgh, you'll experience: 
Efficient service, and high-quality, long-term results.
100% satisfaction, or we'll make it right.
Bi-monthly treatments for longevity.
Top-of-the-line customer service from a highly-skilled team.
A comprehensive inspection to determine the best course of action. 
Image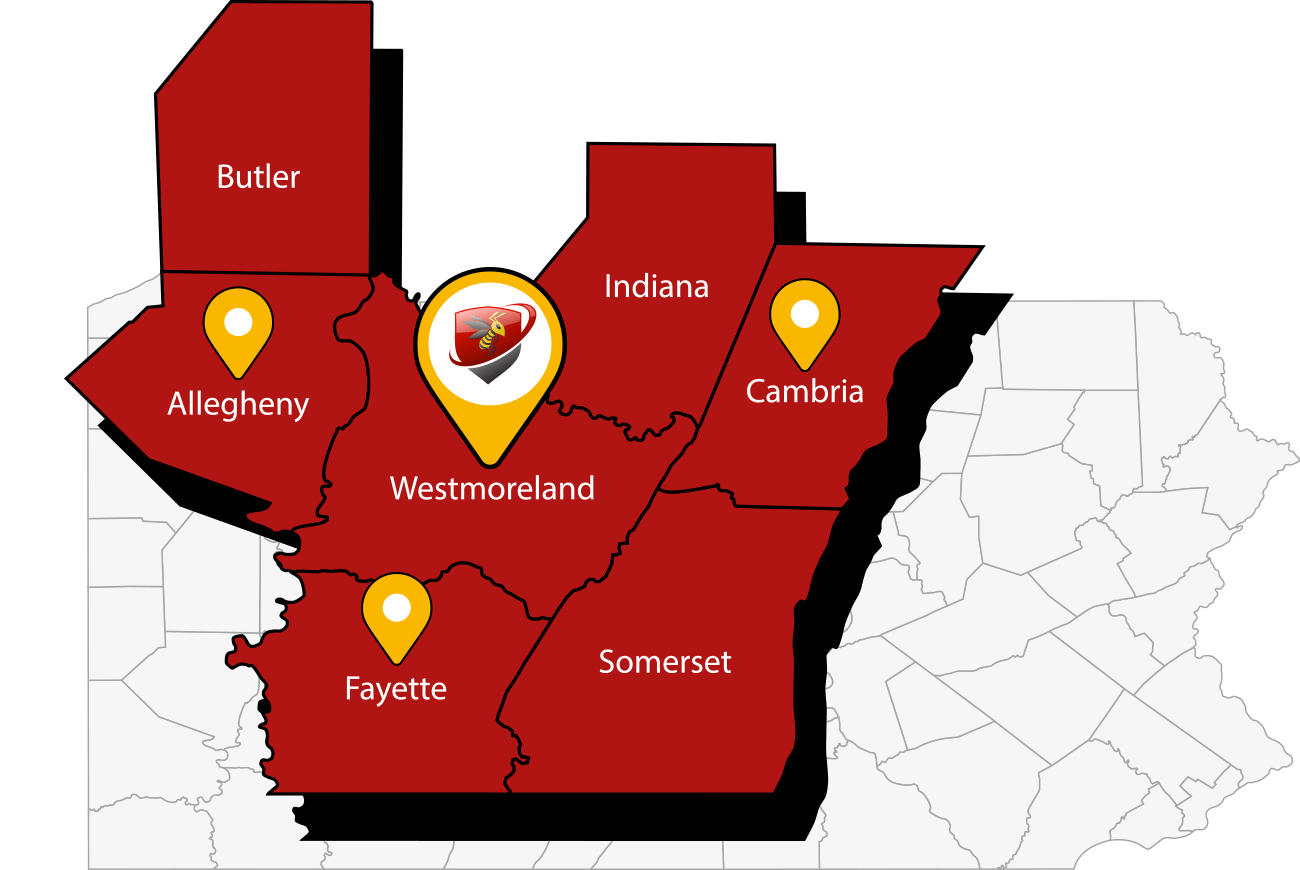 Pest Treatment, On Us!
If you're ever been a victim of a pest infestation, you know what it feels like to be constantly stressed. As humans, we all have more important things to worry about, which is why we've made it our mission to lighten the burden. You can cross this off your to-do list forever, because the expert exterminators at D-Bug Pest Control have you covered!
Your first treatment is on the house when you upgrade to our Home Guard package! We're giving you the gift of pest removal in Pittsburgh this season, because everyone deserves to live a pest-free life. We're certain that when you experience our services and meet our team, it will feel like second nature to refer us to your friends and family. If you reside outside of Pittsburgh, check out our other locations surrounding the Greensburg office. Our D-Bug exterminators service the following pests:
Ants
Bed Bugs
Stinging Insects 
Rodents 
Termites
Ticks 
Mosquitos 
And plenty of others!
Termite Treatment in Pittsburgh
Termites are small, but they're capable of causing a large amount of damage. As soon as you notice signs of an infestation, your next step is to opt for a termite inspection with a reputable pest control company. Before you know it, these pests can cost you thousands of dollars in structural damage. At D-Bug Pest Control, our ultimate goal is to provide effective, long-term solutions, and be the best option for termite treatment in Pittsburgh. Our expert team of exterminators will work quicker than the termites, kicking them out before they've had the chance to settle in. At the end of it all, we hope to be your definition of the best termite removal you've experienced yet. 
Here are common indicators that you may have a termite infestation:
Termite swarmers.
Mud tunnels in your foundation or walls.
Damage to wood. 
Fecal droppings.
Windows or doors that feel stuck, or difficult to open.
Peeling paint.
Over 80 Years of Termite Treatment
It's important to us that we're able to help you from the moment we meet you, to long after we've completed the job. We have over 80 years of experience delivering exceptional customer service, long-lasting services, and making sure you're 100% satisfied. When you sign up for our termite treatment in Pittsburgh, you'll feel like part of the family. Best of all, we're only one call away.
Tick Control in Pittsburgh
Finding a tick is always an unpleasant experience whether they've latched onto you, your pet, or a family member. Ticks are parasitic pests that come in several different species and are known to spread several different illnesses too. Here at D-Bug, we have over 80 years of experience in exterminating all the most common types of ticks in Pittsburgh to keep you and your family safe. 
When you count on D-Bug for tick control in Pittsburgh, you can expect:
A thorough inspection

to determine the ticks' species and breeding ground.

A treatment customized to your situation.

Spray treatments

in your yard and the surrounding bushes and trees.

Treatment that also exterminates fleas and mosquitos.

Our satisfaction guarantee

that if ticks return, we'll treat your yard again at no additional cost.
Stinging Insect Control in Pittsburgh
When there's warm weather in Pennsylvania, you want to enjoy it while you can without stinging insects like wasps, bees, and hornets making an appearance. With over 80 years of experience, D-Bug Pest Control has the expertise you need for effective and lasting stinging insect control in Pittsburgh. Our team of exterminators are ready to protect your family and home from:
Bumblebees

Carpenter bees

Paper wasps

Yellow jackets

Bald-faced hornets

European hornets

Mud daubers

And more!
Removal and Relief That Lasts
DIY methods are risky and often ineffective at eliminating insects that live in nests and colonies. For your safety, it's best to contact a professional pest control company. Fortunately D-Bug Pest Control is one of the best and most experienced companies in Western Pennsylvania. Stinging insect control in Pittsburgh from D-Bug includes targeted treatments so that you get removal and relief with lasting protection. Our well-trained exterminators are ready to provide:
Nest removal and inspection

of likely nesting areas.

Ethical and safe relocation of bee colonies.

Efficient and effective removal

of existing stinging insects.

A satisfaction guarantee

that we'll re-treat if issues persist.
Our Guarantee
Should pests persist in between scheduled treatments, simply let us know and we'll re-service your home for no additional cost to you. That's our guarantee to you!
Image