Image
The Best Pest Control in Pleasant Hills For 80+ Years
What kind of problem are you having? Select all that apply.
Pest Control in Pleasant Hills
It's easy for pests to find their way into your home, but not always as easy to eliminate them. That's where we come in! Our highly trained pest exterminators in Pleasant Hills will take care of all the hard work for you, from locating pests with our thorough inspection, to treating and removing them, giving you hassle-free relief. Our pest control company will protect your home from a variety of common household critters—including:
Ant control
Cockroach control
Spider control
Beetle control
Earwig control
Silverfish control
Bee control
Wasp control
Cricket control
Fly control
Centipede control
And more!
Image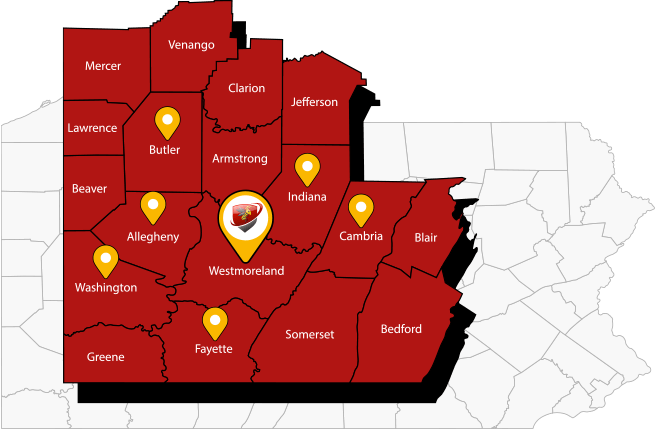 Comprehensive Pest Protection
When it comes to an infestations, you want them gone quickly. While DIY pest control options may sound like the solution you've been searching for, they're largely ineffective and fail to prevent future infestations. Instead of relying on temporary fixes, trust our local exterminators in Pleasant Hills. Our Home Guard Package pest removal combines recurring visits and powerful products into an all-inclusive, hassle-free treatment option that keeps you protected no matter the season.
When you choose our expert team, you can expect:
An inspection conducted by a local exterminator to identify entry and exit points throughout the home.
Targeted interior treatments in January and February to eliminate pests inside.
Family-friendly exterior treatments to create a protective bubble to prevent pests from entering your home.
Prompt service if you have pest problems between scheduled visits.
A pest-free home, from top to bottom!
Our Pest-Free Guarantee
We're confident in our removal services, and we want you to be, too. That's why our exterminators are always willing to go above and beyond for our customers, which includes backing our treatments with a satisfaction guarantee. Start with an initial free inspection, and if pests return within 30 days of treatment, all you have to do is let us know and an exterminator will gladly return to re-treat your home for free.
Tick Control in Pleasant Hills
Ticks are commonly found in the woods, but that doesn't mean they can't be in your backyard, too. They like to hide under leaf litter, around the border of your yard, in your driveway, and even on playgrounds or swing sets. Ticks may be small, but they can still cause problems for you and your furry friends. A tick bite can cause Lyme disease, Rocky Mountain spotted fever, and ehrlichiosis, among other tick-borne diseases. The best way to remove ticks safely and efficiently is with our tick treatment in Pleasant Hills—you're guaranteed to see results!
Say Goodbye to Ticks
No one wants to share their yard with ticks, and luckily you don't have to. We've worked hard to develop our Tick Guard treatment plan that works, providing efficient tick removal to help you reclaim your yard and peace of mind.
When you trust our tick control, our technicians will:
Conduct a thorough tick inspection of your property to find where ticks are hiding.
Create a treatment plan that's tailored to your specific needs.
Carefully spray your yard, shrubs, trees, and other vegetation for efficient tick removal.
Give you our satisfaction guarantee: if ticks come back, so will we!
Not only do treatments remove ticks, but it also treats mosquitoes and fleas as well, giving your reliable relief from all of these blood-sucking pests.
Termite Treatment in Pleasant Hills
Termites are one of the most overwhelming pest infestations you can face as a homeowner. These insects can operate invisibly in your walls for months before you notice them, doing immense financial damage to your home's structural integrity during that time. Worse, many options for termite treatment in Pleasant Hills are expensive and time-consuming, and few of those treat the problem for the long run. Before you start to worry, rest easy knowing that your neighborhood pest control experts over at D-Control have you covered. Since 1939, we've been providing the guaranteed termite control your home deserves.
Schedule Your Inspection Today
Eco-Friendly Termite Control Solutions
Our treatment utilizes the eco-friendly Sentricon Termite Baiting System to attack your termite colony systematically, eliminating them and keeping them gone—for good! Even better, our follow-up inspections will keep termites from returning, so you won't be left second-guessing whether or not your home is protected. When you choose our experienced team, you can expect the following:
A thorough home inspection to identify what type of termite is present.
A personalized treatment plan designed to meet your home's needs.
Reduced-risk treatments and top-of-the-line technology.
Follow-ups and options for annual renewal to keep your home safe.
Rodent Control in Pleasant Hills
If you see a mouse in your house and catch it with a trap, that sigh of relief you breathe may be premature. Where there is one mouse, there are surely more. Given that a single female mouse can reproduce around 90 babies in a year, a rodent infestation can result before you know it. At D-Bug, we've built an 80-year reputation getting rid of rodents in homes just like yours.
Effective Rodent Control for Your Peace of Mind
There are a lot of good reasons to call D-Bug for rodent removal—disease-carrying rats and mice can contaminate your food, foul your belongings with their strong urine, destroy your insulation, and even create a fire hazard by chewing on wires.
When you partner with us for rodent control in Pleasant Hills, we not only get to work evicting rats and mice, but making sure they never come back. Here's what you can expect:
A comprehensive inspection to determine the scope of your rodent problem as well as how rats and mice are accessing your home.
A custom treatment plan tailored to your specific situation.
Strategic placement of bait boxes as well as traps or glue boards if needed.
Follow-up rodent inspections to make sure rats and mice are a thing of the past.
Bed Bug Treatment in Pleasant Hills
Bed bug infestations are stressful, but store-bought solutions can make things even worse. Instead of giving you the relief you need, they actually force bed bugs deeper into your home. This leaves you out a few dollars and even more frustrated than you were before. For service that really works, trust our bed bug treatment in Pleasant Hills. Our exterminators will have you sleeping soundly in no time!
When you partner with us for bed bug removal in Pleasant Hills, we will:
Search your home to

determine the extent of the infestation.

Tailor our approach

based on our inspection findings.

Eliminate bed bugs using

family-friendly treatments.

Complete a

follow-up visit

to make sure you're pest-free.
Looking for Pest Control Outside of Cranberry Township?
We also offer pest control to Pittsburgh and surrounding cities!
Our Guarantee
Should pests persist in between scheduled treatments, simply let us know and we'll re-service your home for no additional cost to you. That's our guarantee to you!
Image