Image
80+ Years of Pest Control in Uniontown
What kind of problem are you having? Select all that apply.
Pest Control in Uniontown
Pests can strike at any time, and what they leave behind can contaminate your living space. They can be a serious threat to your mental and physical health, so it's best to contact an experienced pest control company like D-Bug to get the job done right. By attempting DIY pest removal, you could actually waste more time and money, and therefore do more harm than good to your home. We deal with pests including: 
Ants
Spiders
Earwigs
Stinging insects 
Rodents 
Mosquitos 
Roaches
And more!
Image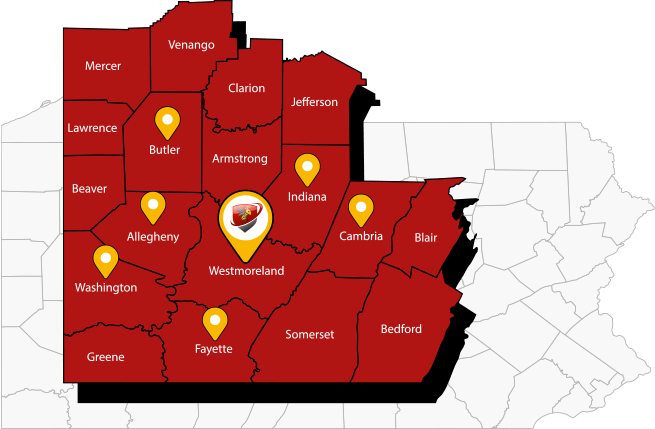 Pest Control Done Right
Your satisfaction is our main focus, so you can rest assured knowing that you're in good hands during your inspection, and every moment thereafter. When you choose our expert exterminators for pest control in Uniontown, they will provide: 
100% satisfaction, guaranteed.
Top-of-the-line customer service from our highly-skilled team.
Quick service when an issue arises, so you are never left waiting. 
Long-lasting, effective solutions with our bi-monthly treatments.
Your First Treatment: On Us
You might be thinking that this is too good to be true, but rules are meant to be broken. There are many ways we can thank you for choosing us for your pest removal needs, but we want to give you something to get started. Your first treatment is on the house when you upgrade to our Home Guard Package! When you experience our services, you'll never have to think twice about who to call in the event of an infestation. If you are not happy with any of our services, let us know and we will come back to re-treat your home at no additional cost. Let the local experts give you the pest-free home you deserve!
Termite Treatment in Uniontown
Termites are an efficient pest to the structure of any building. Most people are not aware they have these pests until after the damage has been done. Termite damage can cost homeowners thousands of dollars, which is why it's important to call D-Bug Pest Control at the first sign of an infestation. We have been providing exceptional termite treatment to homes in Uniontown since 1939. As a locally-owned business, we have become experts on pests in our area. Service from a qualified D-Bug exterminator includes:
A thorough inspection

of your home to search for signs of activity or damage.

A custom treatment plan

based on your preferences.

A Sentricon Termite Baiting System

around the exterior of your house for thorough protection.

Guaranteed return in six months

to ensure proper termite prevention.

The option of yearly renewals

for continued protection.
Identifying Termites
Because they are difficult to detect, it's important to be aware of the signs that indicate you may have an infestation. Some common indicators of this insect include:
Piles of wings

– If you begin to see piles of wings discarded on flat surfaces in the home, this is a sign of a termite infestation as they are discarded from worker termites.

Damage

– These insects will leave holes in trim or drywall that they will then patch up with mud. A gentle tap on the wood surrounding this area can help indicate how far the infestation has gone. The weaker the wood, the worse the infestation.

Mud tubes

– Check along your foundation, trim, and door frames for any mud tubes/trails. These are left behind by the workers. 
Bed Bug Treatment in Uniontown
Have you noticed red, itchy bumps on your skin when you wake up? This could be a sign of a bed bug infestation. It's important to start examining for these pests as soon as you suspect their presence. That's where we come in. D-Bug Pest Control has been offering bed bug treatment in Uniontown for over 75 years, so it's safe to say we know what we're doing. Our exterminators know exactly what it takes to provide effective and efficient service to ensure bed bug eradication for your property using our tried-and-true pest services! Service from a qualified D-Bug bed bug exterminator includes:
A thorough inspection

to identify if bed bugs are your culprit and affected areas.

A customized treatment plan

designed to address the unique needs of your property and situation.

Eco-friendly treatments

you can trust to ensure the safety of you and your family. 

A follow-up inspection

to ensure bed bug prevention.
You Can Trust Us– We're Your Neighbors
D-Bug Pest Control has been treating West Pennsylvanian homes for over 75 years, which means we know what we're doing and we do it well. Our experienced bed bug exterminators live here, which means they know how to tackle the unique needs of a Pennsylvanian home. Help us help you by calling us today!
Rodent Control in Uniontown
It's not easy to prevent rodents from wreaking havoc in your home; they sneak inside without you noticing, hide in hard-to-reach places, and rapidly reproduce. Instead of relying on store-bought remedies, trust our rodent control in Uniontown. In addition to using high-quality products, our rodent exterminators will also provide follow-up inspections until the infestation is completely gone, ensuring you see results.
When you choose our rat control in Uniontown, we will:
Complete a

thorough inspection

to find how rodents are entering your home.

Create a

personalized treatment plan

based on your needs.

Place bait

strategically around the outside of your home

and in the attic.

Use

glue boards and traps

as needed.

Seal off entry points to stop future infestations.
Tick Control in Uniontown
Ticks can transmit a variety of illnesses, posing a risk to you and your family. Our tick control service ensures that your yard is a safe and enjoyable space for everyone. When you choose us for tick control, expect the following:
Comprehensive coverage of all areas of your yard to ensure that ticks are eliminated completely. We leave no stone unturned, providing comprehensive coverage and protection.
A customized approach tailored to meet your specific needs, addressing the tick problem effectively based on the characteristics of your yard.
Safe and environmentally friendly tick control methods ensure minimal impact while effectively eliminating ticks.
Long-term prevention to ensure ticks do not return. We take a proactive approach to keep your yard tick-free in the long run.
Peace of Mind Guarantee
Choosing our tick control service gives you peace of mind, knowing that your yard is protected from the dangers of ticks and the diseases they carry. Put your trust in our expertise and experience, and enjoy a tick-free outdoor space.
Stinging Insect Control in Uniontown
Are you tired of being stung by pesky insects in Uniontown? Our stinging insect control service is here to save the day! With our expert team and state-of-the-art technology, we'll eliminate those buzzing nuisances and create a safe environment for you and your loved ones. When you choose us for outdoor insect control, you can expect:
Cost-effective solutions to get rid of stinging insects, saving you from potential damages and health risks associated with DIY control methods.
Reliable and effective solutions to eliminate stinging insects, providing lasting results and peace of mind.
Comprehensive treatments to eliminate stinging insects, remove nests, and relocate honeybees and other pollinators.
Satisfaction guarantee. If you're not completely satisfied, we offer free re-treatments.
Don't let those tiny creatures ruin your peace of mind. Call us now and experience a sting-free life like never before!
Beyond Wasp and Hornet Control
Our extensive knowledge and experience in the pest control industry, spanning over 80 years, allows us to effectively handle all types of stinging insects such as bees, wasps, and hornets. Instead of attempting DIY wasp control, it is advisable to rely on our skilled exterminators for safe and effective results, prioritizing your health and safety. Here are just some of the stinging insects we can treat in Uniontown:
Yellow Jackets
Hornets
Bees
Paper Wasps
Mud Daubers
Bald-faced Hornets
Carpenter Bees
And More!
Wildlife Control in Uniontown
Are you tired of having wild animals invade your property and cause damage? Look no further! Our team of wildlife control professionals in Uniontown is here to help. With our expertise and experience, we can safely remove any unwanted animals from your property, ensuring the safety and comfort of your family. Say goodbye to the worries and dangers that come with wildlife intrusion.
Why choose our wildlife removal service?
Our experts will inspect your property, create a customized plan, and ensure a wildlife-free yard.
We use bait stations and trapping to keep wildlife away from your property and prevent damage. These methods are highly effective in keeping unwanted animals away.
We remove wildlife with care and compassion, ensuring no harm to animals or your family.
We don't stop after removing wildlife. We keep monitoring and taking necessary measures to make sure they don't come back. Your peace of mind is our priority.
Remember, prevention is key! Don't wait until the problem becomes more severe. Let our experts assess your property and devise a comprehensive plan to keep wildlife at bay. With our wildlife prevention services, you can enjoy your home without worrying about unwanted animal encounters.
Mosquito Control in Uniontown
Are you tired of being constantly bothered by pesky mosquitoes during the warmer months? Our team of local mosquito exterminators is dedicated to reclaiming your yard and ensuring your family's safety from these annoying insects and the diseases they carry.
When you partner with D-Bug Pest Control for mosquito control, you can expect:
A free inspection of your property to understand the mosquito infestation and create an effective treatment plan.
Customized mosquito control treatment plans to fit your yard's unique needs.
Innovative sprays and larvacides to get rid of mosquitoes at every stage of their life cycle. 
Preventative treatments that create a barrier around your yard, keeping mosquitoes at bay for an extended period. 
Satisfaction is guaranteed so if you're not happy with our mosquito control services, we will retreat your yard for free. 
Don't let mosquitoes ruin your outdoor enjoyment this spring and summer. Trust the experts at D-Bug Pest Control in Uniontown to provide you with the best mosquito control services available. We have the knowledge, experience, and innovative treatments to effectively eliminate mosquitoes from your yard and keep your family safe from the diseases they carry. Contact us today to schedule a comprehensive property inspection and take the first step towards a mosquito-free environment.
Our Guarantee
Should pests persist in between scheduled treatments, simply let us know and we'll re-service your home for no additional cost to you. That's our guarantee to you!
Image