Image
The Best Pest Control in Greensburg For 80+ Years
What kind of problem are you having? Select all that apply.
Pest Control in Greensburg
No one wants to experience an infestation in their home, but unfortunately, they are more common than you think. At D-Bug Pest Control, you never have to deal with it alone. With our pest control in Greensburg, we'll make sure those critters are sent packing! We are a locally-owned and family-operated pest control company dedicated to keeping our neighbors protected from any and all pest infestations. To do this, we ensure all of our exterminators in Greensburg have successfully completed a series of intense training. That way by the time they arrive at your home, they are equipped with the knowledge and skill to tackle even the largest infestation.
Effective Treatment Through Recurring Services
Pest infestations are no joke. That's why at D-Bug, we are confident the best way to treat and prevent infestations is through recurring services. We carefully developed our Home Guard Package to ensure treatment is effective. This all-inclusive and stress-free treatment plan allows you to feel comfortable in your home again. With all of our pest control services in Greensburg, you can expect:
Effective solutions through bi-monthly treatment
Prompt service for fast relief
Excellent customer service from highly-trained Greensburg exterminators
Satisfaction guaranteed
Image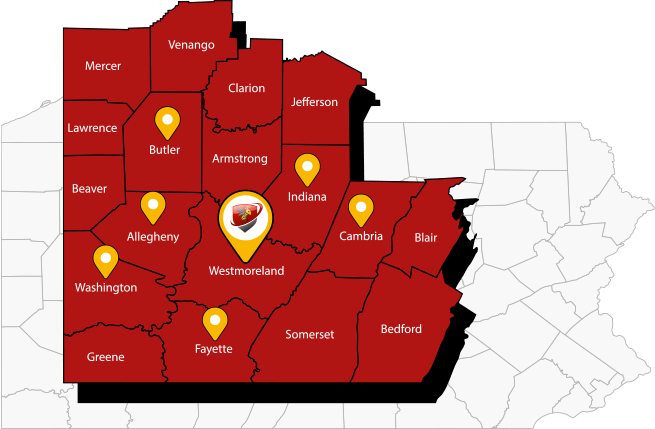 Greensburg Pest Control Services
Although Pennsylvania has so many amazing things to offer, pests are one exception. They are a year-round threat to homeowners, which often leads them to rely on DIY baits and traps. However, these forms of pest control are just not enough! When faced with an infestation of any kind or size, you should always call in the experts at D-Bug. Our exterminators have over 80 years of direct experience with pest control in Greensburg, meaning you can rest assured knowing your home will be protected from roaches, spiders, ants, silverfish, and more.
Our Satisfaction Guarantee - If Pests Come Back, So Will We
Your satisfaction is the most important thing to us. We pride ourselves in delivering top-rated pest control in Greensburg and friendly customer service, so when we don't – we want to fix it. If insects or rodents return within 30 days of us servicing your home, let us know and we will happily re-treat your home for free! Or if you are just left feeling dissatisfied, give us a call and we will work with you to make it right!  We stand behind our pest control services and guarantee you will see results! 
Termite Treatment in Greensburg
For being so small, termites can cause big damage. These destructive pests are capable of doing thousands of dollars of damage to your home before you even realize they're there! Let our local exterminators help you with our termite treatment in Greensburg to kick them out before they break your bank! Our Quality Pro-certified local experts will help you eliminate any and all termites in your home, saving you money and peace of mind! Call D-Bug today and let one of our expert exterminators get started protecting your home.
Rely on Over 80 Years of Experience
When termites invade, you want the help of someone who knows their stuff. Here at D-Bug Pest Control, we have over eight decades of experience in treating termites, meaning we'll have what it takes to keep your home free of these pests. When you partner with us for termite treatment in Greensburg, you can expect:
A thorough inspection of your home to identify the extent of your infestation
A personalized treatment plan to meet your unique needs
Installation of the Sentricon Termite Baiting System outside your home to eliminate your colony
Six-month check ups and yearly renewals
A 100% satisfaction guarantee: if your pest problems persist, just let us know and we'll be out to fix it in no time at all—and at no additional cost!
Rodent Control in Greensburg
When rodents invade your home, getting rid of them can be tricky. That's why we offer fast, easy, and affordable rodent control services in Greensburg to keep your home rodent-free and your family safe! Our family friendly Greensburg rodent control services include:
A thorough home inspection to determine where and how they are entering your home
A personalized treatment plan using bait boxes, traps, or glue boards to give you total relief
Exclusionary work to patch up entry holes and keep these pests out
Follow-up inspections to make sure your home stays free of these pests for good
Rodent-Free Living, Guaranteed!
When it comes to keeping your home free of these pests, you don't want to take any chances. That's why we offer a pest-free guarantee to give you the peace of mind that when you partner with us for your Greensburg rodent control, we'll get the job done right the first time! If you spot a mouse or rat in your home after we've treated, we'll send one of our skilled rodent exterminators back to retreat free of charge. That's a service you can count on!
Bed Bug Treatment in Greensburg
Don't let bed bugs fool you, they are extremely smart and aware of their surroundings. They know to stay out of view during the day, and also know when to come out at night. Bed bugs may be small, but they are smarter than you think. While they are hiding, they are also laying eggs. This can cause an extreme infestation to occur in your home. No one wants to feel like their home is being taken over by these pests, so that's why you need our professional bed bug treatment in Greensburg. Our trained bed bug exterminators at D-Bug are here to get rid of your troubles today!
When signing up for our bed bug treatment in Greensburg, you can expect:
A professional bed bug inspection of your home for signs of bed bugs
A custom treatment plan for your home
A thorough treatment with safe products
Follow up visits to make sure the bugs are gone
Tick Control in Greensburg
Ticks can transmit a variety of diseases, such as Rocky Mountain Spotted fever and Lyme disease. Fortunately, at D-Bug Pest Control, we offer quality tick control in Greensburg to keep you and your family protected long-term!
Save $25 on Guaranteed Tick Removal
These pests are harmful to you, your children, and your pets alike. Our tick prevention plan includes comprehensive protection against ticks, mosquitoes, and fleas for your peace of mind. When you schedule a treatment with us, rest assured that a professional tick exterminator will visit your home and provide you with thorough service for quick and effective tick removal!
Our tick control in Greensburg guarantees: 
A free, comprehensive tick inspection of your property.
A custom treatment plan designed to remove these critters and prevent them from returning.
EPA-approved treatments to ensure the safety of you and your family.
Fast relief from mosquitoes and fleas, in addition to ticks!
Wildlife Control in Greensburg
Wild animals are endowed with incredible survival skills. Unfortunately, sometimes those skills lead them to your home where food, warmth, and shelter reside. When wildlife finds its way into your home, it can cause property damage, spread diseases, contaminate food, or cause some noxious odors. In order to keep you and your family safe, it's best to enlist the service of an experienced exterminator At D-Bug, where we've been providing wildlife control for over 80 years. Our highly-trained technicians can handle wildlife removal to ensure your safety.
When you call us for wildlife control in Greensburg, you can expect:
A detailed inspection

to assess how and where animals are entering.

A customized treatment plan

based on the inspection results.

Sealing entrance points

for wildlife protection that lasts.

Family-friendly treatments

that eliminate existing wildlife.
Animals such as raccoons, squirrels, bats, and opossums do their best in the wild, and you do best in a home free of sneaky critters. Call D-Bug for your free quote today!
Stinging Insect Control in Greensburg
Protecting your family from wasp and hornet stings is a high priority, as many people are dangerously allergic and don't realize it until they've been stung. DIY treatments come with many pitfalls, including the fact that angry members of the colony are likely to feel threatened and attack anyone nearby. Our QualityPro-certified local technicians at D-Bug are trained to safely and effectively manage stinging insects on your property, including:
Bumblebees

Baldfaced hornets

Carpenter bees

European hornets

Honey bees

Mud daubers

Paper wasps

Yellowjackets

And more!
Guaranteed Bee and Wasp Removal
With 80+ years in the business of protecting local properties just like yours, our technicians have been trained and equipped to remove stinging insects without endangering themselves or others. We stand behind our stinging insect treatments and guarantee that if bees, wasps, or hornets return, so will we, with no additional fee.
With our effective stinging insect control in Greensburg you can expect:
A

complete home and property inspection

to find stinging insects and any existing nesting locations.

Protection of honeybees and other pollinators with

expert and ethical hive relocation

.

Safe and reliable stinging insect removal

from your property.

Empty nest removal

to eliminate potential homes for new colonies of stinging insects.

Education and information

on best practices to keep stinging insects away.
Mosquito Control in Greensburg
As soon as it becomes warm enough to enjoy the outdoors, you need to start protecting yourself from mosquitoes and their bites. If you don't want to be bundled up to limit exposed skin or deal with DIY sprays and candles just to hang out in your backyard, D-Bug can help. Our mosquito prevention program in Greensburg will eliminate these annoying insects and allow you to take advantage of the warmer temperatures without worrying about the risk of mosquito-transmitted diseases.
With our mosquito control in Greensburg, you will receive:
A

thorough inspection

of your yard to find mosquitoes and where they're breeding.

Treatment plans customized

to address the challenges we find on your property.

Targeting of mosquitoes in all life stages using

the latest in spray technology and other treatments

to leave your property mosquito-free.

Application of preventative treatments

designed to keep them away all season.
Need Pest Control Service Near Greensburg?
Our exterminators service many other locations surrounding Greensburg, PA, including: 
Our Guarantee
Should pests persist in between scheduled treatments, simply let us know and we'll re-service your home for no additional cost to you. That's our guarantee to you!
Image