Image
The Best Pest Control in Indiana, PA For 80+ Years
What kind of problem are you having? Select all that apply.
Pest Control in Indiana, PA
As a homeowner, pests in your home are unwelcome at all times. Unfortunately, an infestation is something almost everyone has to deal with at one point or another. But not when partnering with D-Bug Pest Control in Indiana, PA. We'll make sure your home is protected against pests all year-round! With more than 80 years of experience keeping homes just like yours free of pests, there's no one more knowledgeable or experienced to protect your home.
Our team of exterminators is highly trained and Quality Pro-certified, meaning you can trust our experts will solve your problem and get it right the first time. Did you know D-Bug Pest Control also offers professional lawn care services in Indiana, Pennsylvania? Free your yard from weeds and enjoy the beautiful lawn you deserve.
Image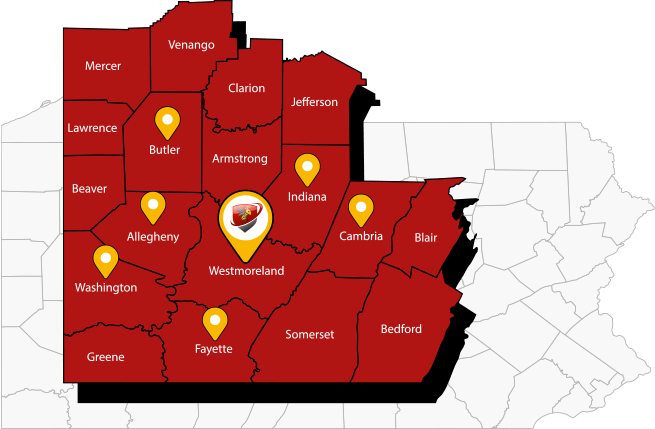 Get Year-Round Protection Against These Pests
We're lucky to have all four seasons in Pennsylvania—however, that means different types of pests show up at different times of the year. No matter the type of infestation you're dealing with, our experts can eliminate them from your home and make sure they don't return through recurring inspections and treatments. When you sign up for our pest control in Indiana, we'll make sure your home is protected against the following critters:
Ants
Spiders
Earwigs
Bees
Wasps
Flies
Centipedes
Crickets
Roaches
Beetles
Silverfish
And more!
Recurring Pest Control Treatment Plans - Eco-Friendly Treatments
Over the past eight decades, we have developed our Home Guard Package which provides consistent relief from all kinds of household pests. When you sign up for our pest protection plan, you will receive recurring treatments that target existing infestations while simultaneously creating a barrier around your home — which prevents future ones from occurring. This treatment plan in Indiana includes:
Bi-monthly treatments in and around your home
Scheduled follow-up, year-round services
Prompt service for fast relief
Relief from over 12 different pests
100% satisfaction guarantee
Bed Bug Treatment in Indiana, PA
No one should have to share their sheets with bed bugs. These parasitic insects are notorious for hitching rides on luggage, used furniture, and clothing to make their way into your home. Once they arrive, their small size and ability to hide in easy-to-miss cracks and crevices make them difficult to eliminate with DIY bed bug treatments. Here at D-Bug, we're ready to help you put your bed bug problems to rest once and for all with our family-and-pet-friendly bed bug control in Indiana. 
Eco-Friendly, Family-Safe Treatments
If you're waking up with lines of itchy red welts, seeing bloodstains on your pillows and sheets, and noticing dark spots on your sheets, bed bugs are likely to blame. Here at D-Bug, we've spent over 80 years identifying and eliminating bed bugs in homes just like yours. As Pennsylvania locals, our bed bug exterminators are trained to administer fast, safe, effective treatments that can help you take back your good night's sleep without disrupting your schedule. When you team up with us for bed bug treatments, you will receive the following:
A thorough inspection to identify if bed bugs are your culprit and affected areas.
A customized treatment plan designed to address the unique needs of your property and situation.
Eco-friendly treatments you can trust to ensure the safety of you and your family. 
A follow-up inspection to ensure bed bugs are gone for good.
Termite Control in Indiana, PA
Few pests can do as much damage to your home and finances as termites. Each year, termites cost homeowners around the country over $5 billion in damages, most of which are rarely covered by home insurance policies. Since 1939, D-Bug has been perfecting our termite control to protect against these destructive insects. When you work with us, we'll make your termite problems a thing of the past before you know it with our eco-friendly science-based termite control.
Long-Lasting Protection With Sentricon Technology
When dealing with termites, one treatment is rarely enough to keep the problem gone for good. A single termite colony can contain as many as 1,000,000 members, and many surface-level termite treatments fail to eliminate the entire colony. With D-Bug, you'll have the benefit of knowing that our termite treatment relies on the proven Sentricon Termite Baiting System to monitor for and prevent termites well after your initial treatment.
When you choose us for termite control, you can expect the following:
A thorough inspection by one of our trained termite exterminators in Indiana.
A personalized treatment plan designed to target your infestation at its source.
Installation of a Sentricon bait system for ongoing protection.
Follow-up treatment in six months to ensure the colony is eliminated.
Annual renewal options and our satisfaction guarantee.
The peace of mind of knowing your home is protected from termites.
Rodent Control in Indiana, PA
When rodents go looking for real estate, your house is probably high on their list. It's warm, there's plenty of food, and it has lots of hiding places to raise babies. What starts as a few rats and mice here and there can quickly turn into an infestation, spreading damage and even disease. Do-it-yourself rodent control can be hit or miss. Why take chances? Since 1939, D-Bug has been providing effective rodent removal in homes just like yours.
Stop Damaging Rodents in Their Tracks
The signs of rodents aren't hard to see, or to smell. Rats and mice leave droppings in your cabinets and pantry. They make nests in insulation and foul the air with their strong urine. They are constantly gnawing and will chew papers, clothing, and even wires. Rodents even transmit illnesses like salmonella, hantavirus, tularemia, and more. If you detect signs of rodents there's no time to waste—you need a professional rodent exterminator on your side.
If you choose D-Bug to provide your rodent control in Indian, here's what we will do for you:
Provide a thorough inspection to determine the level of your rodent infestation as well as how these pests are getting inside.
Present a comprehensive, customized rodent removal plan tailored to your situation.
Strategically place bait boxes around your home, as well as traps and glue boards if needed.
Return for a re-inspection to make sure your rodent problem is solved.
Tick Control in Indiana, PA
Ticks can carry diseases like ehrlichiosis and Lyme disease, which can affect both your family and pets. To protect your loved ones from ticks, as well as fleas and mosquitoes, trust our expert pest exterminators. We'll use safe, effective products to treat every corner of your property. We guarantee that you'll see results or we'll re-treat for free!
When you choose our tick control in Indiana, we will:
Inspect your property to identify where ticks are breeding and hiding.
Create a custom treatment plan based on our inspection findings.
Treat your yard, bushes, trees, and surrounding woods or fields.
Stinging Insect Control in Indiana
Whether you happen upon a nest or they decide to join your picnic, the danger presented by stinging insects is very real. If allergic, a single sting can result in a life-threatening situation. Without the correct knowledge, protection, and equipment, use of DIY treatments can lead to serious injury if the members of the hive become aggressive and attack. At D-Bug we have been protecting our neighbors from bees, wasps, and hornets for 80+ years and make sure our QualityPro certified technicians have the necessary training and tools to safely eliminate stinging insects from your property.
When you partner with our local exterminators for stinging insect control in Indiana, you can expect:
A thorough inspection to find stinging insects and their nests.
Expert and ethical relocation of honeybees and other pollinators to protect these essential insects.
Reliable treatments to safely leave your property free of bees, wasps, and hornets.
Empty nest removal to eliminate locations to house new stinging insect colonies.
Guaranteed satisfaction, or we will return to make things right with no additional fee.
Education and information on ways to prevent stinging insects from coming back.
Mosquito Control in Indiana
As daylight lengthens in conjunction with warmer days, it's natural to want to spend more time outside enjoying your backyard. However, unless you employ an effective mosquito prevention program like the one offered by D-Bug Pest Control, you'll spend most of your time listening to incessant whining and swatting aggressive insects instead of relaxing. Our local mosquito exterminators offer effective treatments for quick relief from these annoying pests in your yard, reducing your chances of getting bitten and your exposure to the dangerous diseases they transmit.
Our reliable mosquito control in Indiana includes:
A

comprehensive inspection

to assess the mosquito population in your yard.

Custom treatment plans

to fit your unique situation.

Use of

industry-leading spray technology and other treatments

to eliminate adult mosquitoes and their larva.

Season-long freedom from mosquitoes with

additional preventative treatments

.
Wildlife Control in Indiana, PA
Don't let wild animals invade your home, wreak havoc, and put your family's safety at risk. At D-Bug Pest Control, we specialize in wildlife removal in Indiana, providing you with comprehensive and effective solutions to keep your home critter-free. Our expert wildlife exterminators have the knowledge, experience, and tools needed to handle any wildlife infestation.
Why choose us for wildlife control in Indiana, Pennsylvania?
We create personalized treatment plans for each home, addressing specific needs and preventing future infestations through thorough inspections and targeted solutions.
We offer ongoing prevention services that include sealing entryways to prevent future infestations and providing continuous support to ensure your home remains free of wildlife.
Our company uses humane trapping methods to prioritize the well-being of animals and safely remove them from your property without causing harm to wildlife.
We can remove snakes from your property safely and prevent future occurrences.
Our team specializes in removing deceased animals from your property and addressing any odor concerns that may arise, as their presence can be unpleasant and pose potential health risks.
We provide 24/7 emergency service for wildlife issues, ensuring that we are available whenever you need us.
Contact us today to get rid of wildlife infestations, prevent future intrusions, and ensure a safe and comfortable living environment for you and your family.
A Family-Operated Company You Can Count On
As a family-operated company, you can trust that our highly trained exterminators in Indiana will treat you like their own. We promise to never use products that we wouldn't use on our own homes, and we would never do a job that we personally wouldn't be happy with. Our 100% satisfaction guarantee ensures that you will be satisfied with our services — and if you're not, we will re-treat your home if pests persist within 30 days of treatment.
Our Guarantee
Should pests persist in between scheduled treatments, simply let us know and we'll re-service your home for no additional cost to you. That's our guarantee to you!
Image