Image
The Best Pest Control in Monroeville For 80+ Years
What kind of problem are you having? Select all that apply.
Pest Control in Monroeville
Are you feeling uncomfortable in your own home due to an unwanted pest problem? D-Bug Pest Control in Monroeville has your back, and we'll help you take back your home for good!
The sight of a pest scurrying around your home is one no homeowner wants to see. Pests have the ability to instantly make you feel uncomfortable in your own home, but that doesn't mean you have to put up with them. With D-Bug pest control in Monroeville, pests will be sent packing for good! If you upgrade to our home guard package, your first treatment is free!
Lasting Results With Recurring Services
After servicing our customers for over 80 years, we have come to the conclusion that the best way to effectively eliminate and prevent pest infestations is through recurring services. If you are looking for all-inclusive and stress-free pest control in Monroeville that will keep your home protected from pests all year long, then our Home Guard Package is the one for you! Our expert exterminators in Monroeville carefully and strategically treat the interior and/or exterior of your home according to the seasonal demands for long-lasting protection. All of our Monroeville pest control services include:
Prompt service to provide fast relief
Bi-monthly visits to ensure all treatments are effective
Exceptional service by our highly trained technicians
Satisfaction guaranteed
Image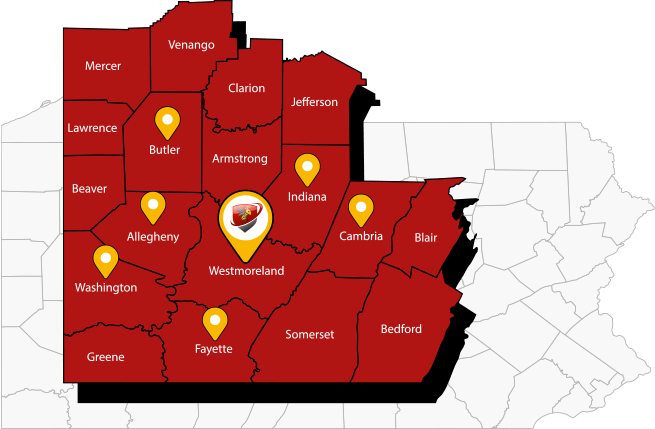 Monroeville Pest Control Services
As a locally owned and operated company, we know better than anyone that Pennsylvania has the most appealing climate for homeowners because it offers warm, sunny summers as well as cold, snowy winters. The only downside? Pests find it appealing also makes them a constant threat to homeowners all year long.  But that doesn't mean you have to deal with them alone. In fact, if you've been relying on DIY methods then you've probably discovered they are not very effective. When you partner up with D-Bug for pest control in Monroeville, you can rest assured knowing your home is being protected from all kinds of pests, including:
Ant control
Roach control
Spider control
Silverfish control
Fly control
And More!
We Guarantee Satisfaction - If Pests Come Back, So Will We!
We are confident that our services will provide you with a pest-free home and the peace of mind you deserve. So much so, that we offer a 100% satisfaction guarantee with all of our Monroeville pest control services. If you ever experience a pest problem that requires immediate attention or pests return within 30 days of treatment, one of our technicians will happily return to your home. We pride ourselves in our top-notch customer service and never want a customer to be left dissatisfied!
Not only do we provide pets control and pest removal, but we also offer lawn care in Monroeville. When you require both pest control and lawn care, our technicians will try to schedule both treatments on the same day! 
Termite Control in Monroeville
Your home is your biggest investment, so it deserves the best protection available. Termites are not only costly, they're also fairly common, making professional termite treatments in Monroeville a necessity. Our team is highly experienced and qualified to keep your home secure, saving you from the hefty repair bill that usually follows termites. Call us today for the relief you deserve, delivered to your door by our Monroeville termite exterminators.
Proven Methods 80 Years in the Making
We've been in the industry for 80 years, so our Monroeville termite treatments have gone through rigorous testing, resulting in proven methods that give quick relief. If you think termites have invaded your home, don't panic! Our highly trained Monroeville termite exterminators are just a phone call away. When we restore your peace of mind and treat your home, you can expect:
A thorough inspection to identify areas affected by termites.
Customized treatment that works with your home's needs to provide effective relief.
Installation of a Sentricon Termite Baiting System around the exterior of your home, creating a barrier against termites.
A return visit in six months to ensure termites haven't returned.
Yearly renewals that provide long-lasting protection against termites.
Contact D-Bug For A Free Estimate
Warning Signs of Termites
When dealing with termites, fast action is important. The sooner their presence is detected, the sooner they can be eliminated, giving them less time to inflict damage. You can help keep your home safe by keeping an eye out for classic signs of a termite infestation, including:
Discarded wings inside and around your home
Unexplained damage to timber
Mud tubes on the walls or foundation of your home
Peeling paint that looks like water damage
Hollow or papery sounding walls or floors
If you see any of the signs around your home, it's time to call one of our Monroeville termite exterminators to do a proper inspection. If you do have termites in your home, we'll make quick work of them so you can stop stressing over those destructive pests.
Rodent Control in Monroeville
Ridding your home of rodents on your own can be tricky, and with rodents quick reproductive rates, a small invasion can turn into a full blown infestation in no time. If you don't want to take a chance on messy snap traps and DIY treatments, D-Bug Pest Control has the solution you need! Our Monroeville rodent control services are the perfect way to rid your home of rodents for good, giving you quick relief and lasting results!
Reactive and Preventative Rodent Treatments For Lasting Relief
With over 8 decades of experience, the skilled technicians here at D-Bug Pest Control know exactly what it takes to get rid of mice and other rodents for good. That's why we designed our rodent control services in Monroeville to tackle rodents on two fronts - eliminating existing rodents and preventing new rodents from ever coming into your home. When you partner with D-Bug for your Monroeville rodent control needs, you can expect:
A thorough home inspection
A personalized treatment plan
Sealed up entryways to keep rodents out
Follow-up inspections for lasting relief
A 30-day rodent-free guarantee
Give us a call at 724-221-9636 to schedule your initial inspection
Bed Bug Treatment in Monroeville
Do you wake up with bite marks all over your body? Are there bloodstains on your sheets? Then you might have a bed bug infestation. Bed bugs can survive in all areas of your home, including in your bed, couches, and more. These pesky pests can cause lots of harm to your home, so get bed bug treatment in Monroeville today. Beat the bed bugs that lay eggs when they are hiding and contact the bed bug exterminators at D-Bug Pest Control for bed bug control in your Monroeville home! 
Not sure if you're experiencing a bed bug infestation? If you see the following signs, contact our professional bed bug exterminators for fast relief: 
Bloodstains on pajamas or bed sheets 
Small, red welts on your skin 
Empty eggshells in your bedding or on the floor 
Brown spots on sheets and pillowcases 
A musty odor
At D-Bug Pest Control, we understand that each home is different. That is why we offer a customized treatment plan for your Monroeville bed bug control needs! One of our trained bed bug exterminators will conduct a thorough inspection of your home to identify the severity of your infestation. After creating a customized treatment plan, our exterminators will treat your home with family-friendly products to ensure the safety of your family. They will also schedule follow-up visits to make sure you are satisfied with your service and that the bed bugs are gone for good! We service many areas within our Greensburg office location. 
Tick Control in Monroeville
While most yard pests are annoying, few are as unsettling as ticks. Ticks can also be difficult to remove after they bite you, and a tick bite can easily become infected if not dealt with correctly. Here at D-Bug Pest Control, we've been providing top-of-the-line guaranteed tick control in Monroeville for over eight decades. We are proud to offer a 30-day warranty with our services, meaning if ticks return within a month of treatment, we'll be back to set it right at no additional cost to you!
These parasitic insects are notorious for transmitting a range of dangerous diseases, including:
Lyme Disease
Rocky Mountain Spotted Fever
STARI (Southern Tick-Associated Rash Illness
Tularemia
West Nile Virus
Heartworms (in pets)
Save $25 on Tick Control
D-Bug prioritizes the health and safety of your family, which is why we designed a tick treatment that ensures their elimination. When you team up with us for tick control, you can expect the following:
A thorough inspection of your yard by a trained tick exterminator to identify any breeding and hiding spots for ticks. 
Customized spray treatments of vegetation, bushes, trees, surrounding woods, and other common tick hiding places.
Treatments that also reduce flea and mosquito populations.
The peace of mind of a tick-free yard!
Stinging Insect Control in Monroeville
Bees, hornets, and wasps are no joke! They can be very territorial and aggressive, giving painful stings to those close by. Trying to get rid of these stinging insects can be quite dangerous and should be done by a professional. Thankfully for you, D-Bug is the pest control company for the job! With over 80 years of experience, we offer the most effective stinging insect control in Monroeville. Depending on the type of stinging insect, our team develops a customized treatment plan to ensure that you receive the best results.
D-Bug's stinging insect control services in Monroeville include:
A

thorough inspection

by our qualified exterminators. 

A

highly effective treatment

that will eliminate any live stinging insects.

Nest removal

to prevent new stinging insects from appearing. 
Our expert exterminators are all local and quality pro-certified in Pennsylvania, so you never have to worry about getting the best treatments possible. Call today and inquire about our special offers which include your first treatment free when signing up for our home guard package.
Mosquito Control in Monroeville
If you're outside and being swarmed by mosquitoes, call in D-Bug for mosquito control in Monroeville! We genuinely care about our customers and want to help protect your health and peace of mind from these biting pests. Since 1939, we've been perfecting our mosquito treatments and services. Let us provide you with a yard free of mosquitoes!
Looking for Pest Control Around of Monroeville?
We also provide pest control in the following cities surrounding Monroeville:
Our Guarantee
Should pests persist in between scheduled treatments, simply let us know and we'll re-service your home for no additional cost to you. That's our guarantee to you!
Image