Image
The Best Pest Control in North Huntingdon!
What kind of problem are you having? Select all that apply.
Pest Control in North Huntingdon
With so many things to enjoy about Pennsylvania, you shouldn't be stuck inside the house battling pests. Our experienced pest control technicians will get rid of all critters that have snuck their way in, so you can go out and enjoy our beautiful state! Some of the pests we can help you remove are:
Spiders
Bees
Roaches
Ants
Earwigs
Silverfish
Beetles
Wasps
Centipedes
And more!
Image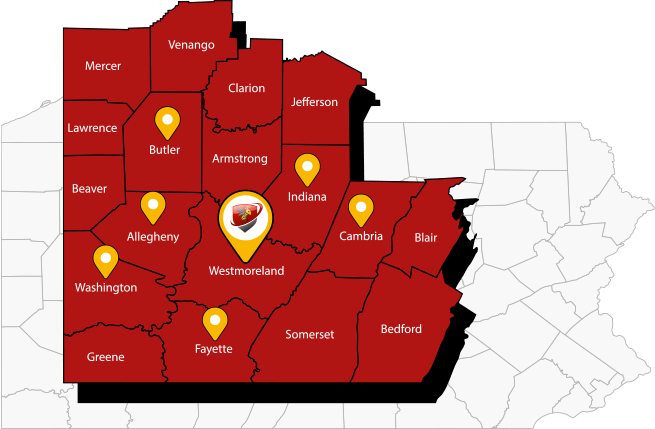 Feel Confident in our Home Guard Package
Have you been struggling to find a solution for pest invaders? If not treated properly, you could be battling them for what feels like ages. When you team up with D-Bug Pest Control, we'll remove any infestation and help you take back control of your home - fast!
If you're looking for long-term protection from pests, invest in our Home Guard Package! This plan provides bi-monthly treatments to ensure we catch any possible infestation early. With our highly-trained technicians by your side, your home will be protected from any threats year-round.
Termite Treatment in North Huntingdon
You've worked hard to create a home you can be proud of—don't let termites take that away from you! These insects are capable of causing massive and costly damage to your home, potentially leaving you with hundreds of thousands of dollars in repairs. To keep your home secure, turn to our team of Quality-Pro-certified termite exterminators to eradicate an existing infestation or prevent an invasion from happening. Call us today at 724-221-9636 to learn how we can help keep your home safe!
Protect Your Home from Costly Termite Damage
When you see signs of termites in your home—such as shed wings, mud tubes, and hollow-sounding floors, and damaged walls—you have to act fast to protect your home (and your wallet!) from the devastation these insects can cause!
When you turn to our team of experts at D-Bug for termite treatment in North Huntingdon, you get: 
A thorough inspection by one of our trained exterminators.
A customized treatment plan tailored to your needs.
Instillation of the Sentricon Termite Baiting System to protect the outside of your home.
Yearly renewals to keep the destructive bugs out!
Trust the Experts in Termite Control
Termites can be nearly impossible to eradicate on your own and even just a small infestation can cause massive damage. With over 80 years of experience, our team of local experts will provide you with the protection you and your home deserve. Get a free quote today to get back your peace of mind and secure your home against these destructive insects.
Rodent Control in North Huntingdon
Are you struggling with rodents? You're not alone. Mouse and rat infestations are a major problem in rural and urban areas alike, and often you won't even know they're in your home until you're dealing with a full-blown infestation. That's where D-Bug Pest Control comes in! For over 80 years, we've been providing rodent control in North Huntingdon to people just like you. We know better than anyone the dangers rats and mice can pose to your home and health, including the following:
Food contamination
Damaged walls and attics
Illnesses such as salmonella and hantavirus
Chewed wires that can cause electrical fires
And more
If you want to get rid of mice and rats and restore your peace of mind, call D-Bug today at 724-221-9636 for top-of-the-line rodent treatments that you can trust.
Save $25 on Rodent Treatments Today
A rodent infestation can be an expensive business. Re-insulating an attic is expensive, time-consuming, and frustrating, and let's not even get started on the costs of decontamination of your home. Here at D-Bug, we want to make the process as easy as possible. That's why we offer $25 off rodent control for new customers! Call us today to save time, money, and sanity with our proven treatments.
Bed Bug Treatment in North Huntingdon
Bed bugs can easily sneak into your home, hiding away in your mattress, couch, carpet, and even behind paintings or inside outlet covers. This makes it difficult to both treat and locate these tiny insects. To get rid of bed bugs fast, you'll need help from our exterminators—with over 80 years of experience, there's no infestation we can't handle.
Custom Bed Bug Treatments for Proven Results
Sharing your space with bed bugs can be frustrating—they leave behind red welts, cause stains on your pajamas and sheets, and make you lose sleep. And while DIY bed bug treatments may seem tempting, they are generally ineffective at getting rid of the insects and can even worsen the infestation by spreading it to other rooms.
Rather than prolong your infestation, trust the expert bed bug exterminators. When you partner with us, our exterminators will:
A thorough inspection of your home to identify the severity of your infestation.
Create a customized treatment plan specific to your unique needs based on our findings.
Carefully treat your home using family-friendly treatment products to ensure your safety. 
Conduct a follow-up visit to confirm bed bugs are gone for good.
When you sign up for our bed bug treatment today, you'll receive $50 off your initial Service
Stinging Insect Control in North Huntingdon
Do you ever wish stinging insects would just buzz off? Although bees and wasps aren't likely to leave your property on their own, you don't have to live with a bee-infested property. With the help of the experts at D-Bug pest, you can get rid of bees, wasps, and hornets once and for all. Call us today for stinging insect control in North Huntingdon and get guaranteed protection from the following insects in Western Pennsylvania: 
Bumblebees
Bald-faced Hornets
Mud Daubers
Carpenter Bees
Yellow Jackets
European Hornets
And More!
Get Rid of Stinging Insects Safely and Effectively
Attempting to get rid of bees and wasps on your own can lead to painful and potentially dangerous stings. Not to mention, without the help of a pest control professional, it can be extremely difficult to eliminate the source of the problem. Instead of risking the health of your household, trust D-Bug to get rid of stinging pests safely and effectively with the following services:
A thorough inspection to determine the source and severity of the infestation.
Bee control that targets the nest in order to provide lasting relief.
Rapidly acting treatments for guaranteed safety sooner rather than later.
Safe and ethical removal of honey bees and other pollinators.
Free re-treatments if you are not 100% satisfied with our wasp control or bee control.
Tick Control in North Huntingdon
Ticks can prove to be quite a threat to both you and your furry friends if they are left unchecked. As known carriers of Lyme disease, if you find yourself contending with a large tick infestation it is imperative that you handle it quickly. Instead of putting your trust in unreliable store-bought solutions, give our experienced exterminators a call and let us provide you the peace of mind that a tick-free yard will give you. 
Partnering with D-Bug Pest Control for tick control in North Huntingdon will provide you with: 
A free and detailed home inspection to assess the severity of your tick infestation. 
Customized treatment plans to handle the ticks in the best way for your specific home situation. 
Safe, EPA-approved treatments will keep you and your loved ones protected. 
$25 off all tick treatments to make it even easier for you!
Mosquito Control in North Huntingdon
Are you tired of dealing with pesky mosquitoes in North Huntingdon, PA? Look no further for the ultimate solution to your mosquito problems. Here's why D-Bug's mosquito control in North Huntingdon is the best choice for you:
Free inspection:

Our team will assess your property and provide a thorough inspection to identify mosquito breeding grounds and tick hotspots.

EPA-approved treatments:

Our treatments include EPA-approved sprays that effectively repel and eliminate mosquitoes.

Targeted areas:

By targeting mosquito breeding areas, we disrupt their life cycle and prevent the emergence of new mosquitoes.
Experience the freedom and peace of mind that comes with a mosquito-free environment. Contact us today to schedule your free inspection and say goodbye to mosquitoes in North Huntingdon!
Wildlife Control in North Huntingdon
Wild animals can easily find their way into your home, causing damage and putting your family at risk for diseases. Our expert wildlife exterminators have the knowledge, experience, and tools needed to safely remove wild animals from your property. When you choose D-Bug Pest Control for wildlife removal and control we provide:
A free inspection of your home to identify animal entry points, signs of wildlife, and assess the infestation.
Removal of dead animals from your property to prevent odors, pests, and disease spread.
24/7 emergency wildlife removal service.
Ongoing prevention using exclusion techniques to keep wildlife out for good.
Don't let wild animals take over your property. Contact D-Bug Pest Control today for professional wildlife control in North Huntingdon. Our experts will ensure your home is safe, comfortable, and free from unwanted wildlife.
Services that Guarantee Satisfaction
With the thorough and detailed treatments our exterminators provide, we're confident in the long-term results you'll be receiving. We trust the service that our hard-working pest control technicians in North Huntingdon provide, which is why we offer a satisfaction guarantee! If you notice critters within 30 days of our treatment, we will come back and retreat for free. We will happily do what we can to keep you and your family happy and living in a pest-free home.
Trustworthy Expertise You Can Count On
With eight decades of local experience, you can count on our team to get the job done. Not only do we have the knowledge and expertise, but we also take great pride in the great customer service we provide. Being a small, family-owned business, we treat you like a part of the family. We'll listen to your needs and treat your home with care and precaution.
In addition to pest control, our trained technicians also provide lawn care services in North Huntingdon. Don't restlessly fight the vermin on your own—call D-Bug to get quick and effective relief! Not in North Huntingdon? Check out our other Greensburg office locations!
Looking for Pest Control Around of North Huntingdon?
Our exterminators service many other locations surrounding North Huntingdon, PA, including: 
Our Guarantee
Should pests persist in between scheduled treatments, simply let us know and we'll re-service your home for no additional cost to you. That's our guarantee to you!
Image