Image
The Best Lawn Care in Latrobe For 80+ Years
What kind of problem are you having? Select all that apply.
Lawn Care Services in Latrobe
Obtaining and maintaining a healthy green lawn requires a lot of attention. With everything else going on in your life, it can be hard to set aside the time necessary to achieve this. At D-Bug Pest Control, we do the hard work so you don't have to. With our Lawn Guard lawn care services in Latrobe, you'll have a lawn you can be proud of!
As a community-based and family-owned company, our customers are also our neighbors. We never perform any service or use any product that we wouldn't use on our own lawns. Our top priorities are your safety and satisfaction. After all, we have been serving the Latrobe community for over 80 years!
Image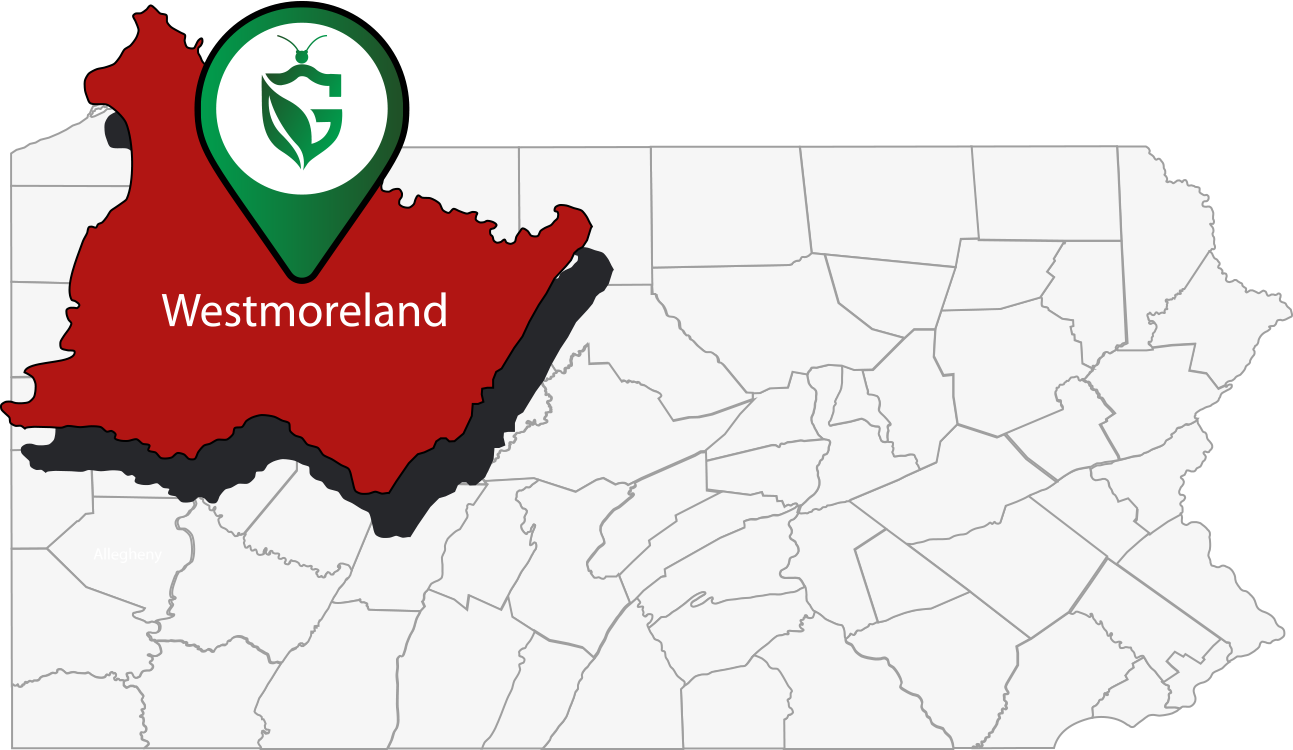 Lawn Care in Latrobe
One of the things we love most about living in Pennsylvania is the weather. We are so lucky to experience all four seasons, but the flux in temperature can make lawn care in Latrobe a tricky task. That's why you should partner with the experts here at D-Bug for your lawn care service in Latrobe. All of our lawn technicians are highly trained and have the knowledge to solve all of your Latrobe lawn care problems. Our Latrobe lawn treatment services improve the overall health of your grass so your lawn looks its best regardless of the season!  
D-Bug Pest Control also offers pest control in Latrobe, treating a variety of indoor and outdoor pests. Reclaim your home and protect your family from pesky pests with our efficient, eco-friendly pest treatments! 
Customized Lawn Treatments For Every Lawn
Unlike other companies, we recognize that no two lawns are the same and that they do not all require the same kind of treatment. That's why we never treat them as such! Our lawn care services in Latrobe are always customized to satisfy the unique needs of your lawn. We offer a variety of specific treatments like fertilization, weed spraying and control, lawn aeration, and soil testing to ensure that whatever your lawn needs, we're giving it. When you team up with us for your Latrobe lawn care services, we always include:
A thorough inspection of your home and lawn.
Identification of problematic pests, wildlife, plant diseases, and more.
The development of a custom treatment plan.
Treatments using family-friendly products.
Recurring follow-up visits for long-lasting results.
Weed Control in Latrobe
Weeds can do a number on your home's curb appeal, but with their tough roots and rapid growth, getting rid of them completely can be tricky on your own. Luckily, D-Bug pest control is here to help! Our weed control services in Latrobe tackle even the most persistent weeds, giving you a weed-free yard that will be the envy of the neighborhood!
Sign Up For A Free Soil Test Today
Let The Experts Restore Your Weed-Free Lawn
With more than eight decades of experience offering quality weed control in Latrobe, the expert lawn technicians at D-Bug Pest Control have what it takes to tackle even the most tenacious of weeds. If you are ready to hang up your weed-wacker and reclaim your weekends, D-Bug is ready to help! Our Latrobe weed control services include:
Low-risk product applications - We know how important your family is to you. That's why all of our Latrobe weed control services use family-friendly products that are safe for use around children and pets.
Preventative and reactive weed control - Whether you want to eliminate existing weeds or prevent new ones from popping up, our Latrobe weed control services are designed to do both, giving you fast-acting and long-lasting relief from unsightly weeds. 
Customizable lawn care add-ons - Why pay for lawn care you don't need? Our customizable lawn care packages allow you to supplement your weed control services with grub control, aeration, and more, giving your lawn exactly what it needs without charging you for what it doesn't. 
Aeration & Seeding in Latrobe
At D-Bug Pest Control, we understand that maintaining a healthy lawn in Latrobe can be a challenge. That's why our lawn aeration and seeding service is here to help. Experience the difference that our lawn aeration and seeding services can make for your lawn today.
With our expert team and state-of-the-art equipment, we offer a range of benefits for your turf:
Choose from liquid or core aeration methods for your lawn's needs. Get the perfect balance of air, water, and nutrients.
Our lawn aeration service in Latrobe promotes healthier turf by removing excess thatch and allowing for greater rooting, resulting in a stronger and more resilient lawn.
Get fast results with our efficient process and enjoy a rejuvenated lawn in no time.
Long-lasting treatments that improve the overall health and appearance of your lawn for seasons to come.
Overseeding for Thick, Healthy Turf
In addition to our lawn aeration service, we also offer professional lawn seeding and overseeding options. This further enhances the growth and vitality of your turf by introducing new grass varieties and promoting deeper nutrient release in the soil.
With years of experience serving the Latrobe community, D-Bug Pest Control is your trusted partner for all your lawn care needs. 
Schedule Your Free Soil Test Today!
Lime Treatment in Latrobe
At D-Bug Pest Control, we understand the challenges that come with maintaining a healthy lawn. That's why we offer our specialized lime treatment service to promote healthier turf and restore the pH balance of your soil. Here's what our Latrobe lime treatment service can do for you:
Promote healthier turf - Our lime application is specially designed to restore the pH balance in your soil, allowing for better absorption of nutrients. This promotes healthy growth and a vibrant green lawn that will be the envy of your neighbors.
Restore pH balance - After a thorough soil testing, we apply lime to your lawn as needed. This helps to bring your soil's pH levels back to optimal levels, creating the perfect environment for your turf to thrive.
Nutrient absorption - By restoring the pH balance in your soil, our treatment ensures that your turf can effectively absorb the necessary nutrients for growth. This results in stronger roots and a lush, resilient lawn.
Create a luscious landscape - With our lime treatment service, you'll have a lawn that stands out. Say goodbye to patchy, dull grass and say hello to a lush, green oasis right in your backyard.
If you're ready to bring your lawn to its full potential, contact us today and get a free quote.
Grub Control in Latrobe
At D-Bug Pest Control, we understand that grub control is a crucial aspect of maintaining a healthy and beautiful lawn. That's why we offer top-notch grub control services in Latrobe to keep your lawn grub-free and thriving.
Here's why you should choose us:
Get a free grub inspection for your lawn. Our team will identify signs of infestation and create a customized treatment plan.
We effectively eliminate grubs from your lawn using proven techniques and advanced products.
We not only eliminate grubs but also implement preventative measures to avoid future infestations. Our experts will offer advice on lawn care practices that discourage grubs from coming back, including proper watering and mowing techniques.
We prioritize your family and pets' safety by using family and pet-friendly products in our grub control treatments. Enjoy a worry-free yard for your loved ones.
With years of experience in the industry, we have honed our expertise in grub control for lawns. We understand the unique challenges that Latrobe's climate presents and have developed effective strategies to combat grub infestations.
Fungicide Treatments in Latrobe
The climate in Latrobe, PA creates a breeding ground for lawn disease-causing pathogens and fungus. With hot summers and cold winters, the combination of extreme temperatures and moisture can be harsh on your grass. These conditions provide the perfect environment for lawn diseases to thrive and spread. If your turf is struggling to survive, it may be due to lawn diseases such as brown patch, dollar spot, or snow mold. These diseases can cause significant damage to your grass, resulting in thinning, discoloration, and even death of your lawn.
When you choose D-Bug Pest Control here's what you can expect:
A thorough inspection of your lawn to identify any signs of disease
Free soil test to determine the health of your soil and identify any nutrient deficiencies
Customized lawn treatment plan designed specifically for your yard's needs
Eco-friendly lawn treatments that are safe for your family and the environment
Long-lasting results with regular, recurring treatments
Our Guarantee
Should pests persist in between scheduled treatments, simply let us know and we'll re-service your home for no additional cost to you. That's our guarantee to you!
Image