Image
The Best Lawn Care in Greensburg For 80+ Years
What kind of problem are you having? Select all that apply.
Lawn Guard in Greensburg
Living in Greensburg means we experience all kinds of weather, which can make tending for our lawns difficult. Between the harsh winters and hot summers, it can be hard to keep up with what exactly your lawn needs in each season. That's why as a locally-owned company, we took it upon ourselves to design lawn care services in Greensburg that work for our climate. Here at D-Bug Pest Control, we utilize effective, family-friendly products so you can be sure your yard will be looking its best at no risk to your loved ones!
In addition to weed control and lawn care services, D-Bug Pest Control offers pest control in Greensburg. Reclaim your home from pesky pests today!
Image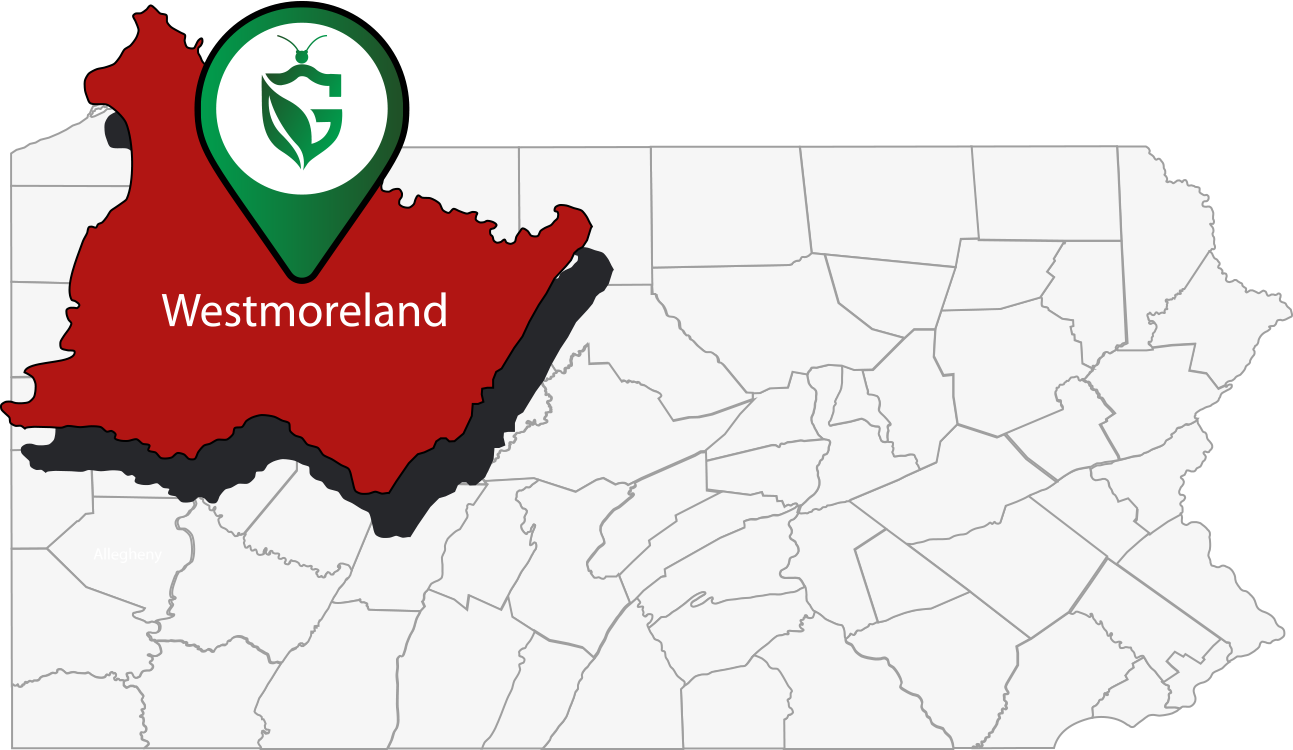 Greensburg Lawn Care Services
We've been in the business serving our neighbors for over eight decades! So, you can trust that our Greensburg lawn care technicians know what they are doing. In fact, each one of them has successfully completed intensive training to ensure they are well prepared to tackle any problem before they even arrive at your home. By partnering with D-Bug, you can rest assured knowing our lawn care in Greensburg will provide you with healthy, green grass that will last! How do we do it? Our Greensburg lawn care services always include:
A detailed inspection of your lawn
Development of a customized treatment plan
Treatment using effective and low-risk products
Recurring return visits for long-lasting results
Customized For Your Lawns Needs
Here at D-Bug Pest Control, we recognize that no two lawns are the same and therefore we will never treat them the same. During your inspection, we look for signs of problematic pests, wildlife issues, plant diseases, signs of moisture and leaking, and so much more. From there, we can accurately identify what exactly it is that your lawn needs to thrive. Some of our Greensburg lawn care treatments consist of:
Fertilization
Aeration
Soil Testing
Lime Application
Weed Control
Grub Control
Fungicide Treatments
Weed Control in Greensburg
Are you tired of spending your weekends pulling weeds only for a new crop to pop up overnight? Stop wasting your time on time-consuming temporary solutions and invest in an easy and lasting fix!  Our Greensburg weed control services are the perfect way to keep your yard looking its best all year round, eliminating existing weeds, and preventing new ones so you can spend your weekends enjoying your yard, not working in it!
Let The Local Experts Tackle Your Toughest Weeds
Here at D-Bug Pest Control, we have over 8 decades of experience tackling a variety of Western Pennsylvania's toughest and most tenacious weeds. Whether your home has been taken over by dandlelion or chickweed, our Greensburg weed control experts have what it takes to return your yard to a weed-free zone, and keep it that way! When you partner with us for your Greensburg weed control needs, you can expect:
Family-friendly product applications that are low-risk for use around kids and pets
Customizable service options that give you the flexibility to supplement your weed control with added services like grub control, aeration, and more. 
A beautiful, weed-free lawn all season long!
Sign Up Today For A Free Soil Test
Aeration & Seeding in Greensburg
Maintaining a healthy lawn in Greensburg can be challenging, but D-Bug Pest Control is here to help you with our top-notch lawn aeration and seeding services. Experience the remarkable impact our services can have on your lawn today. 
Aeration and overseeding are crucial to having a perfect lawn. Here's why:
Aeration allows for better absorption of water and nutrients, resulting in a healthier and greener lawn.
Overseeding helps to fill in bare patches and improve the overall density of your lawn.
Aeration and over-seeding can improve the tolerance of your lawn to drought, heat, and disease.
It helps to break up compacted soil, allowing roots to penetrate deeper and establish a stronger foundation.
Grub Control in Greensburg
Grubs can cause extensive damage to your turf, resulting in unsightly brown patches and weakened grass. Trust our professional grub control service to protect your lawn from these destructive pests. We employ effective strategies to combat grub infestations and restore your lawn to its vibrant and thriving state.
When you choose us for grub control, you can expect:
A free grub inspection for your lawn. Our experts will check for signs of grub activity like brown patches and wilting grass.
Highly effective grub treatments that are designed to eliminate grubs from your lawn effectively. We don't just temporarily get rid of them; we ensure they won't come back to wreak havoc on your beautiful lawn.
Ongoing grub prevention to keep your lawn grub-free in the long run. Our experts will not only eliminate the existing grubs but also implement preventive measures to avoid future infestations. 
We use family and pet-friendly products in our grub control treatments to keep your loved ones safe. Enjoy a worry-free yard without harming your family or pets.
Don't Let Grubs Destroy Your Lawn
When it comes to grub control, we are committed to providing the highest quality service in Greensburg. Our comprehensive approach not only addresses the immediate problem but also ensures long-term prevention. Experience the peace of mind that comes with a grub-free lawn by choosing us as your trusted pest control partner.
Lime Treatment in Greensburg
Are you tired of dealing with a lackluster lawn that just won't seem to thrive? Look no further than D-Bug Pest Control's specialized lime treatment service. We understand the challenges that come with maintaining a healthy lawn, and we're here to help you overcome them. Our professional team is dedicated to promoting healthier turf and restoring the pH balance of your soil, so you can enjoy a lush, vibrant green lawn that will leave your neighbors envious.
Why choose our Greensburg lime treatment service?
Our lime application is designed to restore the pH balance in your soil, improving nutrient absorption and promoting healthy growth for your lawn throughout the year.
We test your soil and add the right amount of lime to balance the pH levels and help your lawn grow.
Balanced soil pH helps nutrient absorption, leading to stronger roots, improved health, and a resilient lawn.
Every lawn is unique, so we customize our lime treatment service to meet your lawn's specific needs for the best results.
Don't let a lackluster lawn hold you back from enjoying the outdoor space you deserve. Your dream lawn is just a phone call away!
Lawn Fungus Treatment in Greensburg
A well-maintained and disease-free lawn not only adds beauty to your property but also increases its value. Our treatments will help you achieve a lush and vibrant lawn that enhances the overall appeal of your home.
Our fungicide treatments include: 
A thorough inspection of your lawn to identify any signs of disease ensures timely intervention.
Free soil testing to evaluate the condition of your soil and determine any nutrient deficiencies that may be impacting disease development.
A personalized treatment plan for your lawn, taking into consideration its unique characteristics and needs, in order to achieve optimal results.
Effective and environmentally friendly lawn treatments that provide peace of mind as they are safe for your family and the environment.
Long-lasting results, ensuring a healthy and disease-free lawn all year round.
Our team has a wealth of experience in dealing with lawn diseases, ensuring that your lawn is in capable hands. Experience the difference with D-Bug Pest Control and say hello to a healthier, disease-free lawn today!
Looking for Lawn Care Around of Greensburg?
We also provide lawn care in the following cities surrounding Greensburg:
Our Guarantee
Should pests persist in between scheduled treatments, simply let us know and we'll re-service your home for no additional cost to you. That's our guarantee to you!
Image